News &
Events
Zero to Hero: Empowering Moneragala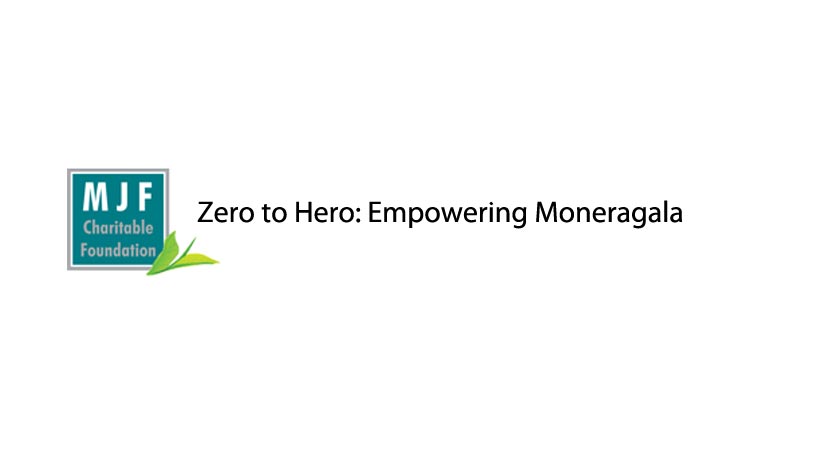 The remote and beautiful province of Moneragala is Sri Lanka's poorest. In 2007 the MJF Foundation initiated its 'Local Heroes' initiative which was designed to build on the success of the Small Entrepreneur Programme (SEP) by supporting and empowering underprivileged communities. The first of these was a tiny Pappadam factory in the Moneragala village of Kumbukkana where the Foundation transformed the lives of a community by working with micro enterprise owner D. M. Dharmadasa to help Undu farmers, the differently abled and marginalized and unemployed people in the area.
D.M. Dharmadasa, is an enterprising young man who had a tiny pappadam factory in Moneragala, the poorest and least developed district in Sri Lanka. The mud walled factory which he and his wife established in 2004 was also their home. Having operated the factory in this way for several years, Dharmadasa managed to eke out a living supplying his pappadam to some of the established brands. He did not get compensated adequately for his effort but could not expand his business due to lack of funds and resources.
Early in 2007, during a survey for the Small Entrepreneur Programme in Moneragala, the MJF Foundation team arrived at Dharmadasa's little facility. He explained his desire to expand and his integrity, initiative and drive to succeed were evident. The MJF Charitable Foundation designed the first Local Heroes project to offer as wide ranging benefit as possible. It involved facilitating Dharmadasa in achieiving his dream, and through that facilitating to set up ancillary industries amongst peasant farmers, providing employment for the differently abled in the MJF Foundation sponsored Deaf & Blind Home nearby, and to support the Elders Home in Moneragala.
The philosophy of the Settlor was explained to Dharmadasa that the emphasis was not on empowering Dharmadasa for his personal enrichment, but rather for him to serve a much nobler cause by being a conduit for the empowerment and upliftment of the wider community. The Foundation entered into an agreement with Dharmadasa, providing him with the financial support to construct a proper factory building and to purchase equipment to improve his product quality and output.
The Foundation worked with local government agencies and Dilmah Tea company volunteers to advise Dharmadasa on ISO and HACCP food safety and quality requirements, and also assisted him to obtain electricity and proper road access to his property. The Foundation team then worked with Dilmah Marketing to design an innovative new product – pappadam made from healthy and fibre rich Kurakkan, a popular health food ingredient in Sri Lanka. Dilmah helped in redesigning his packaging, setting minimum standards for his product, testing and refining his product and taking it to market.
Less than a year since first receiving assistance from the Foundation, Dharmadasa has substantially improved his pappadam factory. He currently employs eight people from his village including two who are differently abled. He has installed renewable energy sources, and expanded his output in preparation for the Dilmah assisted launch of his new Shakthi (strength) Kurakkan Pappadam.
Representing Settlor Merrill J. Fernando, Dilhan C. Fernando – a Trustee of the MJF Charitable Foundation – together with the Foundation team joined 'Dharme' in celebrating the 9th June, 2008 launch of the first batch of Shakthi Kurakkan pappadam.
Dharmadasa who currently sells his products within Monaragala will be assisted to market his products in the capital city – Colombo – where he would be able to earn a better price. His previous profit of Rs. 1 per packet of pappadam sold to a middleman, is enhanced tenfold through the innovative, branded Shakthi Pappadam which he sells direct to retailers, facilitated by the Dilmah Sales team. In doing this he is following the example of Merrill J. Fernando, in offering a quality product, branded and supplied direct to consumers through retailers, with the benefit going back to Kumbukkana. By agreement with the MJF Foundation, the profits from the initiative will help develop the pappadam factory and also be used to assist the Home for Elders, to pay higher wages to Dharme's workers and to pay a higher price to the local Undu farmers.
The local farmes are unable to compete with the imported Undu flour. They are lack milling capacity. In extending the benefit from this project, the MJF Foundation is now forming an Undu Farmer Society which will receive a milling machine, allowing them to mill their own flour, sell to Dharme at a higher than market price, and also sell directly to factories around the country without relying on exploitative millers in Colombo.