News &
Events
Twenty-three acre MJF Centre opened: Dilmah to empower communities in Kalkudah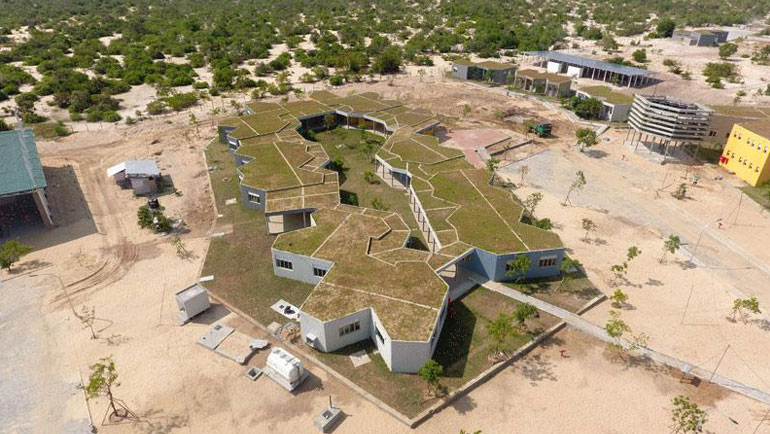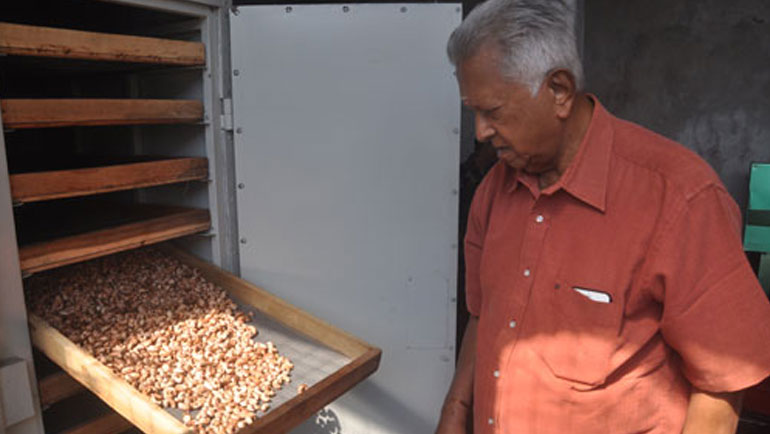 Continuing the legacy of Merrill J. Fernando, the MJF Centre for Dignified Empowerment and Sustainable Development built by the Dilmah Tea company was opened in Kalkudah to serve the Eastern Province, an area lacking in many basic facilities.
Dilmah founder, Merrill J. Fernando and his sons Dilhan and Malik were joined by Prime Minister Ranil Wickremesinghe, in launching the 23 acre centre for empowerment, inspiration, community development and climate change in Kalkudah.
The facility has the objective of uplifting communities and enhancing livelihoods in one of the least developed parts of Sri Lanka. It is ecologically friendly in its design and has humanitarian, educational and environmental functions including an Empower Culinary School, echoing the free services of the Merrill J. Fernando Charitable Foundation's Centre in Moratuwa.
The opening ceremony was a colourful presentation of the MJF Foundation's activities in eastern Sri Lanka, including a review of past involvement since 2006, current projects as well as plans for the future in the new complex.
There were performances from the 'coastal veddahs' native to the area, children from the surrounding community and differently able children who received wheelchairs specially adapted to their size and growth.
"The MJF Centre East is the evolution of 12 years of human service in the Eastern Province. The MJF Foundation and Dilmah Conservation work together in serving communities around Sri Lanka since healthcare, support for differently abled children and their families, education – vocational and environmental, entrepreneurship development, climate change adaptation, sustainable agriculture, sport and counselling are all dimensions of human welfare that need to be addressed holistically as we share the success that Dilmah has been blessed with," said Merrill J. Fernando, settlor of the MJF Charitable Foundation and Dilmah Conservation.
The MJF Centre East will work with communities in the area to help in sharing knowledge and skills that will help the beneficiaries align with opportunities. It also aims to promote integration, learning, innovation and is inclusive.
The main facilities comprise classrooms which will be adapted to meet the needs of ongoing daily programmes for children including those with disabilities, women, youth and entrepreneurs seeking support with marketing and value chain linkages.
A vocational training centre hosts a dedicated IT facility which will provide free training to economically marginalized beneficiaries in a series of courses from the most basic to advanced computer skills.
A key institution within the site is the MJF Foundation's Empower Culinary and Hospitality School. Mirroring a similar facility in the MJF Centre West in Moratuwa, the culinary school offers free support to aspiring chefs and hospitality professionals via a boot camp culinary course developed by and currently conducted at MJF Centre West. Beneficiaries are assessed and accepted based on their social and economic circumstances and placed in industrial apprenticeship after their training at the centre.
With the dramatic impact of climate change in the East, Dilmah Conservation will work with farmers and community based organizations to increase their resilience and help them adapt to climate change. Demonstration plots of climate resilient and sustainable agricultural methods such as biochar, climate smart technology including irrigation and native drought resistant crops will form the bedrock of the program.
The Dilmah Conservation team also seeks to support to the dairy industry of the district with new technology, natural enhancers to milk production and support for value addition. This builds on an existing project 'Greening Batticaloa' which was launched in 2011 and plans to plant one million cashew trees by 2020. With 750,000 trees already planted, the project is intended to enhance the green cover over Batticaloa whilst enhancing the income of recipients of the trees given the high value addition that is possible with Sri Lankan cashew.
CEO of Dilmah, Dilhan C. Fernando said, "Dilmah has been formed around the passionate commitment to Taste, Goodness and Purpose. The MJF Centre East is part of the fulfillment of that Purpose, which forms the heart of Dilmah Tea, and with it my father's lifelong commitment to making our business a matter of human service.
"Our emphasis is on delivering positive and tangible outcomes and we are partnering therefore with communities, government, academia, INGOs (international non governmental organizations)and the private sector to ensure that we secure change for the better in the East of Sri Lanka," he said.
The Dilmah Foundation is the implementing arm of Dilmah philosophy. It is with the intention of passing the benefit to the underserved community, the Centre was set up. Every year Dilmah ensure that minimum of 10 percent of the profit is shared with the poor. This year it was 18 percent and this good work will continue in the future as well, he said.
The Centre will serve differently-abled children and will identify their inherent ability and support with early intervention. We look in to areas where others do not focus on. Our main focus in East was women and children.
The lack of modern facilities has hampered their progress. With the Centre in place these children can integrate with typical children to socialise them. This Centre will send a strong message to the society which highlights peace and unity. The children will have social recognition, he said.
"The land acquired was a shrub land with no cultivation and it was developed according to bio-char system which is a nutritional medium. We have created awareness on climate change viable crops to rural farmers to strengthen the rural economy.
We encourage the farmers to engage in high value added organic cultivation and thereby provide market linkages. We also link them with supermarket chains and help build contact to further market opportunities, he said.
The vocational centre focuses on craft, culinary, sports, physiotherapy and education. This is a multiple centre. According to the needs of the centre further facilities will be added in future. Apart from catering to the needs of women and children, a farmer outreach program is also in place to support them.
"Objective in life is not material fulfillment and money is not everything. The benefit that we can give to the people at large to achieve success in life will be given irrespective of their social standings. We believe in holistic empowerment," Fernando said.
The Centre is based on a 23 acre site and is constructed at a cost of Rs 1.5 billion. More than 85% of the labour used for its construction was local and based with 25km of Kalkudah. The humanitarian and environmental programmes of the Foundation will begin in September and progressively come on stream over a period of six months.
The facility has the objective of delivering transformation in the East, through knowledge, skills development, care and human service aimed at empowering marginalized individuals and communities with dignity. It recognizes that every individual regardless of circumstance or different ability has divinely ordained, inherent ability and the capacity to improve their social, economic and physical condition with support and respect. The MJF Centre East also recognizes the irrevocable connection between human welfare and our natural environment and shall share knowledge of environmental challenges, responses and present options for adaptation.
Sri Lankan family tea company Dilmah, founded by Merrill J. Fernando, today the world's most experienced tea maker, has championed quality, authenticity and variety in tea.
Dilmah pioneered the concept of Single Origin Tea in 1988 when the family company went against industry trends to declare its commitment to authenticity. Garden fresh, unblended tea is a hallmark of Dilmah and offers a unique taste of unblended Ceylon Tea packed at source. Taste, goodness and purpose are the elements around which Dilmah Founder Merrill J. Fernando established his tea business.
Taste which is linked to the finest Ceylon tea, goodness connected with the natural wellness in tea and being acknowledging that success is a blessing from God and must be shared. The MJF Centre East is part of the fulfillment of that purpose which forms the heart of Dilmah tea and the philosophy of making business a matter of human service.
Dilmah is Ethical Tea, in that all packaging profits are retained in Sri Lanka and fund the MJF Charitable Foundation and Dilmah Conservation.
Dilmah Conservation was initiated in 2007 to incorporate environmental and wildlife conservation efforts into the work of the MJF Charitable Foundation. Dilmah Conservation works towards the sustainable use of the environment in partnership with various governmental and non-governmental organizations. The Dilmah company's philosophy of "making business a matter of human service" is deeply ingrained in the work carried out by Dilmah Conservation.
Please click here to View the Original Article.