News &
Events
The Rainbow Centre marks two years of humane service and care for the deserving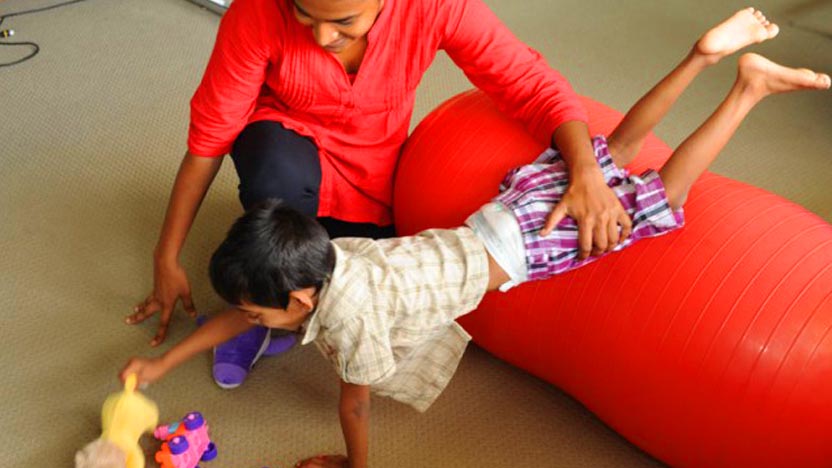 The Rainbow Centre at the MJF Kids Centre in Moratuwa celebrates two years of service this February. The centre provides a holistic development programme for students with special needs whose age ranges from as little as eight months to 35 years of age. Whilst meeting the individual needs of the student, the well trained and qualified staff work closely with their families -who are their main care givers- providing opportunity for dignified empowerment. Parent training, counseling with a psychologist and support groups for mothers through the Women's Development Programme are some of the services offered to such caregivers through the centre.
Over 120 students affected by Down Syndrome, Autism, Cerebral Palsy and other syndromes resulting in development delays are enrolled at The Rainbow Centre. They receive a range of personalized services, extended by a team of caring staff members. An early intervention programme for the toddlers, a preschool and special education, life skills and vocational training for their older colleagues have resulted in a marked development in these students.
The Rainbow Centre also houses an excellent pediatric physiotherapy unit with state of the art equipment and two full time physiotherapists. A full time Speech and Language Therapist works with students with speech and sensory impairments. The final year students of physiotherapy from the Colombo University conduct their clinical practice at the centre. Parents, educationists, students and Dilmah tea consumers drop by at the centre to view the activities and services aiding differently-abled individuals.
Since inception in February 2012, when the Rainbow Centre in Moratuwa commenced the programme with just nine teenagers with special needs, it has come a long way. Within the first year of operation a Centre for Cerebral Palsy was declared opened, in collaboration with the Cerebral Palsy Lanka Foundation, filling a huge void of lack of care and facilities to this physically impaired community. The opening coincided with the birthday of Dilmah Founder, Merrill J Fernando. To date, this Centre has served over 45 children making a difference in their lives.
The Rainbow Centre provides each and every individual with a safe haven to express themselves creatively through dance, music and art. The interactive programmes and events conducted together with other MJF Kids such as the International Down Syndrome Day and the yearend events, provide a path for further development of self esteem, especially for the teenagers and young adults who make up a greater percentage of the attending students.
"With the achievements of the past couple of years, we look forward to moving ahead with additional projects and programmes for our beneficiaries. Whilst enhancing our special education programmes for the younger students and establishing a Multisensory Room, the well equipped carpentry and kitchen will provide further opportunities for income generation for the adults. This year we are in the process of developing a constructive career path for students with a certain level of skill, independence and confidence who will be able to make a useful and positive contribution to their families," says Dilhan Fernando, son of Dilmah Founder Merrill J. Fernando.