News &
Events
Sri Lanka National Blind Cricket team ready for Pakistan cricket tournament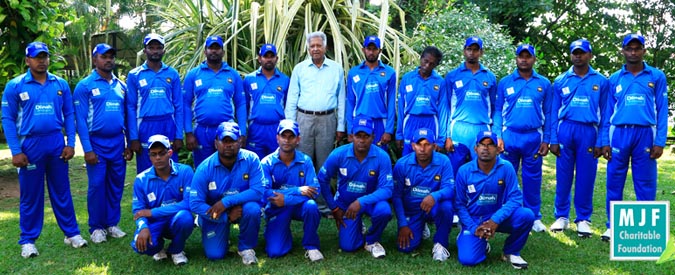 The Sri Lanka National Blind Cricket team is currently preparing for a Pakistan tour, in which they will be playing three T-20 and three one day matches from April 3rd to 10th. The team received their official uniforms sponsored by Dilmah today. The team met with Founder of Dilmah tea, Merrill J. Fernando.

Team players consist of those from all three eyesight categories from partially sighted, to partially blind to totally blind, which is a mandatory requirement for Blind Cricket teams globally. They are scheduled to play the three T-20 matches in Faisalabad while the one day matches will be played at Gujranwala and Lahore.

Captain Deshapriya said that the Sri Lanka Blind Cricket team was recognized as a team to contend with. He said that Pakistan had invited them as a prelude to the World Cup to be held in December this year. He proudly mentioned that the Sri Lankan team had two fast paced bowlers, Kalum Lakmal and Suranga Sampath who were only second to bowlers in the Indian team.

He further said that the Blind Cricket team found it very hard to find sponsors and thanked the Dilmah family for always being the first to step in and support them.

"We are 100% ready for the Pakistan tour and proud to represent the country internationally", said Deshapriya confidently.

The MJF Charitable Foundation has supported the Sri Lanka Cricket Association of the Visually Handicapped since 2007 by hosting the Dilmah Challenge Trophy. This is based on Founder Merrill J. Fernando's philosophy of empowering the differently-abled of Sri Lanka with dignity.

The MJF Charitable Foundation has over the past years assisted and funded the Moneragala Deaf and Blind School, which has one of the best blind cricket teams in Sri Lanka and has contributed several key players to the Sri Lankan National Blind Cricket Team. The Foundation further funds and manages several rural entrepreneurship, education and training projects in the vicinity of Moneragala. The MJF Charitable Foundation also works closely with the Blind Federation with such initiatives as the Knowledge Chest which was launched on World Braille Day 2014. The initiative helps to digitize printed books into an audio format, offering a convenient and accessible means of education and entertainment for blind persons.