News &
Events
Sir Richard Hadlee shares cricketing tips with underprivileged kids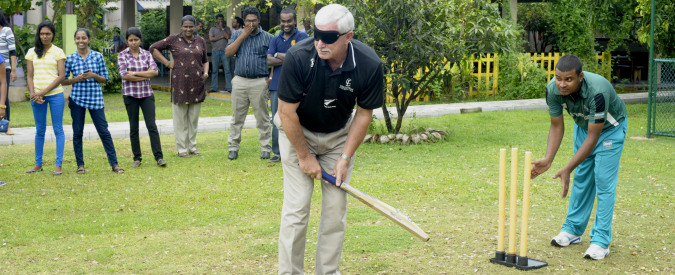 Kiwi cricket legend Sir Richard Hadlee was on a flying visit to Sri Lanka on Friday, June 17th. He was here in his capacity as Patron of the Cricket Live Foundation. He met with Founder Merrill J. Fernando at the Dilmah head office in Peliyagoda where he was taken through the intricacies of traditional tea making by the Founder. Sir Richard also tried his hand at tea tasting.

At the Merrill J. Fernando Charitable Foundation in Moratuwa, Sir Richard he played a friendly game of cricket blindfolded with some members of the blind cricket teams, currently taking part in the Dilmah National Blind Cricket Tournament. The tournament Finals is to be played on Saturday 25th June at the Royal College Grounds, between the two semifinal winning teams Ranawiru and Shakthi.

The cricketing legend conducted a coaching session with the students of the Sunanda Upananda Vidyalaya in Moratuwa. The school is part of the Life through Cricket initiative which is a joint program by the Cricket Live Foundation, New Zealand and the Merrill J. Fernando Charitable Foundation. The program helps children from underprivileged backgrounds play leather ball cricket and participate in Sri Lanka Schools Cricket Association cricket tournaments as members. It also helps them learn and develop life skills like punctuality, time management, respect for family and friends, self-discipline and team work, necessary requirements for a successful future. Life through Cricket concentrates on the concept of developing the person first which will help them naturally flourish as a player thereafter.