News &
Events
Merrill J. Fernando honoured with FIRST Award for Responsible Capitalism for improving the lives of underprivileged children and deprived communities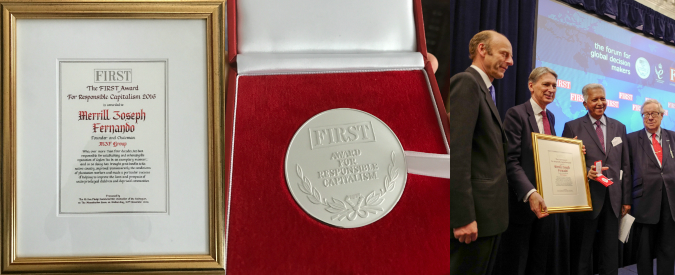 The man known as the Teamaker - Dilmah Founder Merrill J. Fernando - was honoured in the United Kingdom with the FIRST Award for Responsible Capitalism 2016, on November 30 at the Royal Automobile Club, London. The Award recognises business ethics, emphasising his unique philosophy that making business is a matter of human service.
At the presentation of the Award by Rt. Hon. Philip Hammond MP., Chancellor of the Exchequer, at the Royal Automobile Club in London, Merrill J. Fernando explained, "When I look back on my life, for many years, I believed I was very lucky. Ten years ago, I realised it was divine guidance. I owe everything to Almighty God. The Holy Bible states that what we spend on charity is lending to God and God repays us in abundance. I am a beneficiary of that abundance, which I share generously."
In selecting the recipient of the Award, the judges were looking for a business leader who has demonstrated social responsibility as an integral part of commercial success; someone who has run a company in a clearly responsible way. The Dilmah Founder received the main Award whilst two special awards were also presented. Commended recipients were judged on their concern for the environment and the local communities in which their companies and organisations are active.
Born into a middle class Sri Lankan family in rural Ceylon, Merrill J. Fernando was fortunate to be offered a place amongst the first group of Ceylonese to be recruited to learn the art of tea tasting. The years he spent learning tea changed his life; seeing the exploitation of his country's crop through blending and offshore value addition, the young teaman, whilst yet in his twenties, resolved that he would change the tea industry. He devoted his life to tea and, after nearly four decades of struggle against vested interests, he launched his own tea brand. Dilmah - named after his sons Dilhan & Malik - was the world's first producer owned brand in tea, coffee or cocoa, symbolising hope for producers. Grown, handpicked and ethically made at source, Dilmah has grown from its humble origins into a global brand that is unique in its promise of unmatched freshness, provenance, flavour and integrity.
Merrill J. Fernando's greatest achievement is in overcoming the exploitation of his country's tea industry and taking his tea, to tea lovers around the world. Equally, it was the philosophy that he decided would be the foundation of his family tea - making business a matter of human service. The fulfillment of that philosophy is evident in the work of his MJF Charitable Foundation which uses a minimum 10% of the pretax profits of Dilmah and its ancillary businesses, to provide nutrition, education, care and support to differently abled children, youth in marginalised communities, the elderly. Each, of over 100 projects, is designed around the principle of dignified empowerment, and touches the lives of over 10,000 people each year.
Merrill J. Fernando further commented at the Awards ceremony, "I believe that every business has an obligation to human service that extends beyond its workers to the wider community, and even further to the natural environment. There is after all no business that can succeed without the involvement, direct and indirect support and facilitation of human and natural environment. As business we are uniquely able to decipher and overcome problems of poverty and environment. Having been in business for over 65 years, I can tell you that obligation apart, there is no more deeply fulfilling aspect of my business than the work my Foundation does in changing the lives of the poor."
He added: "My decision that integrity - in my conduct towards my customers, my workers, the impoverished community to which I belong and its natural environment - should define my business, reflected the values my mother taught me as a child. I crystallised this into the philosophy that my business is a human service. Mr. Rupert Goodman's initiative in finding and sharing examples of Responsible Capitalism is admirable for the world needs a new way of doing business; a model for practical, sustainable business. I believe the Responsible Capitalism Award is vital, taking us closer to that paradigm shift that is not just desirable but absolutely critical."
In 2007, Merrill extended the humanitarian assistance his businesses offer, to the environment with the formation of Dilmah Conservation, to deliver positive environmental and cultural intervention. His philosophy has delivered strong outcomes through entrepreneurship development amongst survivors of tsunami, war windows, empowerment of women, support for children with cerebral Palsy, Down Syndrome, Autism, supporting ancient tribes in Sri Lanka to adapt to the 21st Century, fostering innovation as a means of addressing developmental challenges, and a host of other projects which have the objective of sharing with the less privileged, the blessings of success that Dilmah has received.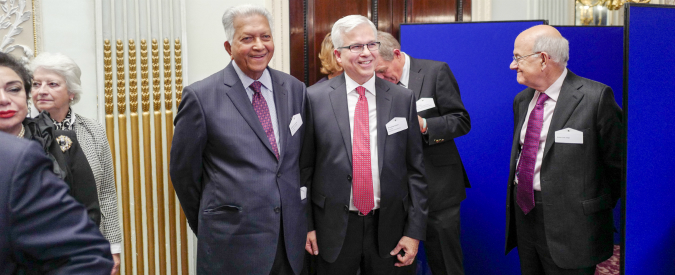 Merrill was honoured by the panel of Nobel Laureates that evaluates 'businessworthiness' amongst business men and women globally, as an Oslo Business for Peace Honouree in 2015. In 2016 he was chosen Sri Lankan of the Year by a panel of eminent persons and Dilmah was recognised by the Medinge Group as a Brand with a Conscience.
The FIRST Award summarises the reason for the selection of Dilmah Founder.
"The First Award for Responsible Capitalism 2016 is awarded to Merrill Joseph Fernando Founder and Chairman MJF Group who, over more than four decades has been responsible for establishing and enhancing the reputation of Ceylon Tea in an exemplary manner; and in so doing has brought great benefits to his native country, improved immeasurably the conditions of plantation workers and made a particular success of helping to improve the lives and prospects of underprivileged children and deprived communities."
Recognising the significance of the Award, Rt Hon Lord Mayor in his comment states; "FIRST's Responsible Capitalism initiative has made a huge contribution to the debate about the moral structure of Capitalism."
Merrill J. Fernando is the only Sri Lankan to have received this Award. The previous award winners include Indra Krishnamurthy Nooyi the enormously respected CEO of PepsiCo, HRH the Prince of Wales and Prof. John Kay of the London School of Economics to name a few.
The award ceremony was attended by Lord Cormack FSA DL - Consultant Public Affairs- FIRST, Rt. Hon. Lord Woolf CH - Chairman of the FIRST Award Judging panel, Rupert Goodman DL- Chairman and Founder of FIRST, Rt. Hon Lord Hurd of Westwell CH CBE- Chairman of the FIRST Advisory Council.
Please click here to view the detail news in The Official FIRST Awards Site
About Dilmah
Sri Lankan family tea company Dilmah, founded by Merrill J. Fernando, today the world's most experienced teamaker, has championed quality, authenticity and variety in tea. Dilmah pioneered the concept of Single Origin Tea in 1988 when the family company went against industry trends to declare its commitment to authenticity. Garden fresh, unblended tea is a hallmark of Dilmah and offers a unique taste of unblended Ceylon tea packed at source - where it is grown.
Dilmah takes the lead in bringing innovation to a global tea category that has suffered decline as a result of commoditisation. Signature events such as the Chefs & the Teamaker and Real High Tea are innovations that seek to educate and inspire hospitality professionals to offer their guests a completely new tea experience. The events foster greater respect for this healthy, natural and versatile beverage.
The Dilmah School of Tea seeks to inspire passion in tea through knowledge of the artisanal aspects of tea amongst hospitality professionals, tea aficionados and consumers. The emphasis is on the importance of Real Tea and the versatility of this natural herb in Tea Gastronomy, food pairing and Tea Mixology.
Dilmah is Ethical Tea, in that all packaging profits are retained in Sri Lanka and fund the MJF Charitable Foundation and Dilmah Conservation. We believe that Business is a Matter of Human Service.
www.dilmahtea.com