News &
Events
LSEG SL partners CLF to help young sporting talent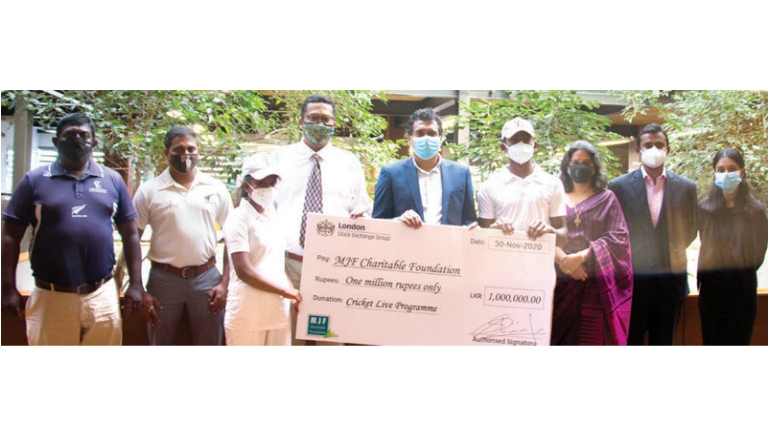 Recently, London Stock Exchange Group Sri Lanka (LSEG SL) made a charitable contribution of LKR 1 million towards the Cricket Live Foundation (CLF) – a collaboration between Dilmah's Merrill J. Fernando Charitable Foundation and Alex Reese's Cricket Life Foundation New Zealand. The programme aims to use cricket as a vehicle to develop life skills, education and future pathways for children from developing communities around the world.
Initiated as part of an employee engagement initiative at LSEG SL titled 'Work from Home Games 2020', participating teams were challenged to upload videos on their social media accounts with LSEG SL agreeing to donate LKR 100 towards each reaction received on the videos. With over 7,350 reactions being calculated at the end of the challenge, staff helped raise LKR 735,000 with LSEG SL adding a further contribution in order to bring the total donation to LKR 1 million. Initially 24 children who have proved their potential in sports will be supported for a one year period.
Commenting on the occasion, Arjuna Nanayakkara, Head of Shared Services Centre, LSEG Sri Lanka stated, "At LSEG, we understand the responsibility we have towards the communities in which we operate, specifically to support education and youth empowerment. We are pleased to actively partner with local programmes such as the Cricket Live Foundation that not only offer youngsters the opportunity to hone their cricketing skills, but to reach their full potential through education, mentorship and the development of life skills."
CLF is part of the Merrill J. Fernando Charitable Foundation and has been in operation in Sri Lanka since 2014 and currently works with over 650 children across six centers in Sri Lanka and India. The collaboration in Sri Lanka is part of Dilmah's Merrill J. Fernando's vision of making business a matter of human service.
Alex Reese, the Founder of Cricket Live Foundation, made the following statement; "We are privileged to have received the support from LSEG [Sri Lanka] towards the Cricket Live Foundation (CLF). Success for the CLF is to provide pathways for our children by unlocking their potential and helping them identify their future aspirations.With this donation, LSEG is helping us put our children on the right path to achieve these aspirations and we will soon be able to see some incredible individuals, both on and off the field."
This article was taken from
Daily News