News &
Events
Livelihood support: earning a living with dignity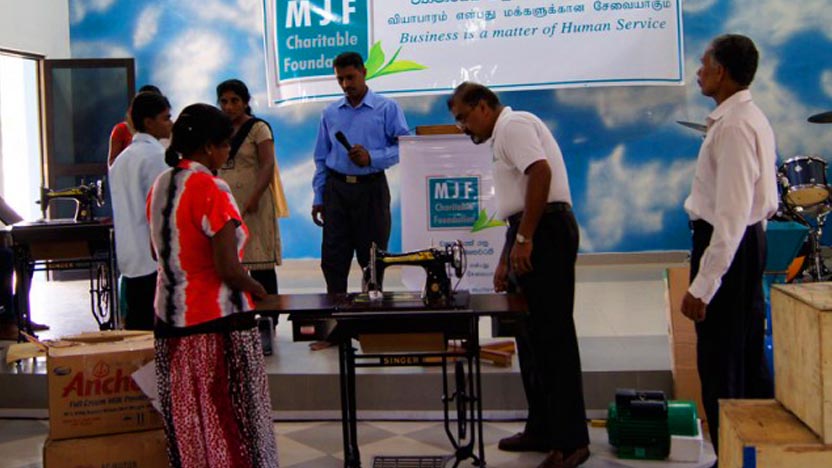 The MJF Charitable Foundation recently made its fifth round of Social Entrepreneur Programme (SEP) funding grants targeting war-affected families in the East. Over 50 war-affected women received livelihood grants in the form equipment for agricultural support, dressmaking/ tailoring, home-based processed food products, and cattle and goat livestock raring.
Additionally, 24 former-combatants received livelihood support for tailoring, processed food product-making, electrical/phone/carpentry and bicycle repair tool kits and animal husbandry. All recipients of the SEP livelihood grant were disabled due to injuries sustained in combat.
"Contrary to the many organizations and entities that approached us and obtained details of assistance needed but never delivered on the promise, we are truly thankful for the MJF Charitable Foundation for helping us live a life of dignity," said Krishnapillai Packiyarajah, on behalf of the SEP grantees.
Packiyarajah (48), Kokkatichcholai, is married and has two daughters aged 8 and 1 ½ years-old. An amputee and artificial limb user, he runs a small shop in the village as he is mobility-disabled due to combat injuries sustained in war. He was recruited to fight for the Liberation Tigers of Tamil Eelam (LTTE) in 1990 at the age of 22 and surrendered after the war's end in 2009. He is currently Head of the Udayajothi Disabled Society in Vavunativu DS division with a membership of 240 disabled persons – most of them disabled due to war injuries. The society is gearing to embark on a manufacturing venture of sewn garments as an income generating project for its members and is seeking assistance from external organizations.
The Head of the Rural Development Society of Ayithiyamalai , Shankar said: "Several organizations collected information from us about disabled former fighters of the LTTE with pledges of support. But this is the first organization to have fulfilled its promise within 2 months of meeting these people in Ayithiyamalai." He urged the new recipients of the SEP grant to make full use of this opportunity presented to make progressive change in their lives and the lives of their families.
Sathis Jeyakumari (38), Ambilanthurai, is a war-widow and mother to two young children. "When MJF Charitable Foundation wanted our details I was reluctant at first as so many organizations had requested such before but offered nothing afterwards. My family lost so much due to the war, including my husband and all our belongings. I was injured in both my arms and leg and now am partially-disabled."
"Today however, is different. I am so happy to have been selected to receive livelihood support from the MJF Foundation and start improving my livelihood," said Jeyakumari.
Shanmugam Kalawathy (34), Pandarayawali, is a former combatant who was forcefully recruited to the LTTE in 1995 at the age of 18. She lost her left leg during the war and is an artificial limb user. She lives with her mother and younger sister and brother, taking care of the family through a small retail shop she operates. After joining the current SEP programme in Vavunativu as co-ordinator, she received a dairy cow to enhance her income.
Kanapathy Yogarasa (38), Nellichenai – Karaveddy joined the LTTE at the age of 16 and surrendered after war's end in 2009. He is above the knee-amputee and currently engages in dairy farming. He was provided a milking cow to enhance his dairy income.
Selvarasa Suresh (27), Karaveddy – Navatkuda, joined the LTTE at 14 years of age. He lost both his arms due to the war. "I regret my past but am now looking forward to a new beginning with the MJF Charitable Foundation," he said as received a cow for dairy.