News &
Events
I couldn't have afforded this house. My kids are happy because they feel secure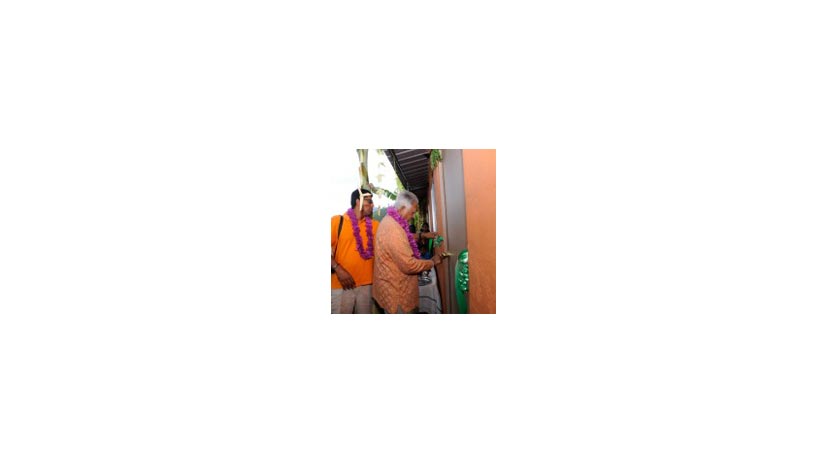 As of 30th March 2015, all 49 families who were living in temporary accommodation on Dunkeld estate have completed receiving their allotment of permanent housing built by the Merrill J. Fernando Charitable Foundation (MJF CF) since Dilmah acquired full ownership of the property. There are no longer any plantation workers of Dunkeld estate living in temporary shelter or shared housing—a significant achievement for any privately-held tea company.
Construction work on the housing units was begun in October last year on a prototype model for the workers and their families living on the estate's lower division—overlooking the salubrious surroundings of the picturesque Castlereagh Reservoir.
A housing recipient said: echoing sentiments of the brand new home owners, "We are all so glad and very proud to be workers here. I couldn't have afforded this house. My kids are happy because they feel secure. Our community of neighbours have also been given houses close to each other so are children have the same friends to play with. Dunkeld estate represents hope and a bright future for us."
They also have easy access to a spacious Health Centre that replaced its previous one-room enclosure. Mr. Nadanasabapathy, the Estate Medical Assistant (EMA) said: "We are delighted. The revamped health centre can better cater to the basic medical needs of Dunkeld estate's residents – totalling 1,210 families.
"It easier for us to have regular health education programmes for the workers as well as the children in here. Expectant mothers and children had to travel far to the Medical Officer of Health (MoH) office for the anti-natal and EPI clinics (Expanded Program on Immunisation). But now we have the facility for the MoH to come to our centre once a month to conduct the clinic on the estate itself," said Mr. Nadanasabapathy.
While housing and medical needs come first in people's lives, a close second for parents especially is the need to educate their children and see their offspring do better than they themselves. Parents and guardians are assured proper and efficient care for the young ones with the recent inauguration of a specialised crèche cum Child Development Centre (CDC)—a child-friendly safe space inaugurated on Dunkeld estate.
Here, the pre-schoolers and kindergarten tots will be guided with the education and learning support necessary for them to gain entry to a formal state school. As such, their parents are very hopeful for brighter future. Nor do they have to worry about packing them a meal/snack and beverage during this time as MJF CF provides them daily nutrition.
The CDC that was declared open also has a large play area and playground equipped with swing sets and a max slide as well. These children are also not confined to the rigours of a four-walled classroom as their teachers have been instructed to offer gentle coaching by way of utilizing the natural environment they are placed amidst.
With this calibre of upliftment and support, it is a common sight to see confident young ones come up to Dilmah Founder Merrill J. Fernando trekking through the gardens and stretch out their little palms to say 'Hello!'
Dilmah is the world's genuinely Ethical Tea, going beyond Fair Trade, in that all packaging profits are retained in Sri Lanka and fund the work of the MJF Charitable Foundation for the benefit of our workers, the community and the future of our industry. The Foundation funds and manages over 300 projects, touching the lives of over 10,000 underprivileged people each year.
To find out more about the work of Merrill J. Fernando Charitable Foundation (MJFCF),
Follow us on instagram https://instagram.com/mjffoundation/
Facebook https://www.facebook.com/MJFCF