News &
Events
Giving back to the hospital that gave him life amidst sorrow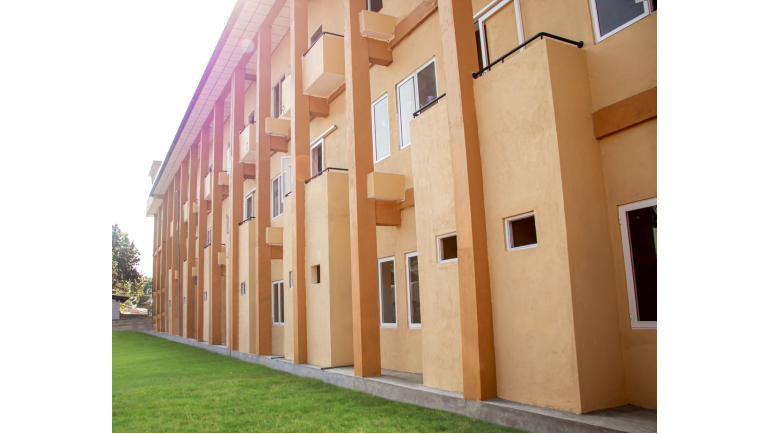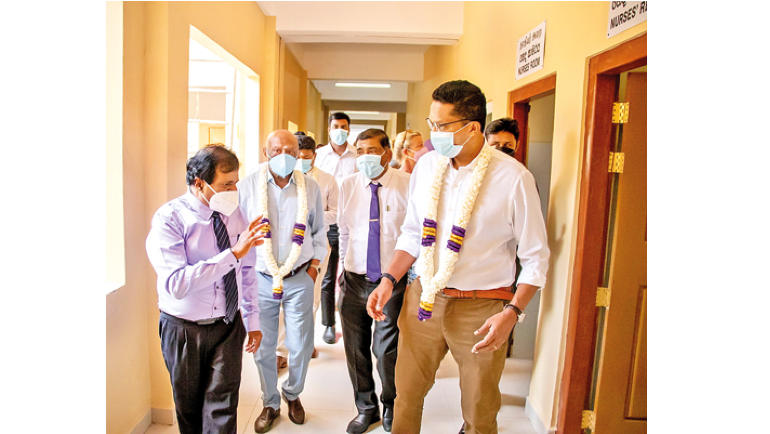 They were friends but did not realize that they had been co-opted to help a worthy cause by a dynamic medical administrator.
The outcome of this triple link has worked for the benefit of the humble people, specifically women, in the northern most point of Sri Lanka – Point Pedro.
Simple was the ceremony held on Saturday, February 26, when distinguished personalities from far-away Germany and Colombo and health officials based in Point Pedro gathered at the Base Hospital to dedicate a brand-new ward complex to women patients.
The 90-bed three-storey complex comprises a ward on the ground floor for women patients with mental health issues, a first-floor medical ward for women and a second-floor surgical ward for women.
The key players in making this modern extension to the Point Pedro Base Hospital a reality are the Provincial Director of Health Services for the Northern Province, Dr. A. Ketheswaran and the funders of the project, the Head of MJF Charitable Foundation Merrill J. Fernando and Ian and Barbara Karan.
With the motto of 'Business is a matter of human service', the MJF Charitable Foundation, the philanthropic arm of Dilmah Ceylon Tea Services and Resplendent Ceylon, had first turned its attention to the Kayts Base Hospital in November 2016 to build an Outpatients Department (OPD) and Administrative Block, when the request had come to support the Point Pedro Hospital.
Dr. Ketheswaran had also approached a visiting philanthropist, Germany-based Mr. Karan.
Point Pedro was very close to Mr. Karan's heart – with an inextricable bond of joy and sadness. For, he had seen the light of day as a newborn within the Point Pedro Hospital on June 17, 1939, but it was also here that his precious mother had died, giving birth to him.
Long years later, when Mr. Karan was the Hamburg State Minister of Economic Affairs and Employment, the then German Ambassador to Sri Lanka, Jens Plötner had invited him to Colombo for an official visit. It included a breakfast meeting with the then President Mahinda Rajapaksa and a short visit to Jaffna.
Recalling that visit, Mr. Karan says in an email interview with the Sunday Times that over dinner in Jaffna, Mr. Plötner told him: "I am aware of all the good things and charitable initiatives that you do in Hamburg but in actual fact your birthplace also needs your help."
When Mr. Karan visited Hartley College and Principal Theivendrarajah requested him to finance a new hostel building damaged beyond repair due to the separatist war, the die was cast. It was the hostel where he had stayed as a schoolboy and he and Barbara, built his old school a brand new hostel.
The circumstances were just right for further assistance, as it was at the hostel handing over ceremony that they met Dr. Ketheswaran who requested a new ward for the Point Pedro Hospital.
Mr. Karan says that Merrill is a "very old and close friend" and he suggested they join forces to collaborate on building the new ward.
"It was necessary for me to have him participate financially, but also on a large project like this, to have an experienced institution to supervise the building process and the payment procedure," says Mr. Karan who has visited Jaffna three times since 2011.
He adds that he has been lucky in life and feels it is his duty to help his place of birth and the people.
For MJF Charitable Foundation Trustee Dilhan C. Fernando his father's (Merrill's) wish to serve humanity through his business is a deep-rooted commitment.
"The evolution and challenges we are experiencing post-COVID demonstrate that for us to address the existential climate related threat, while also addressing poverty and inequality, there is no other option. Success is achieved with the participation of many. Therefore, it is logical and morally correct to ensure that success is also shared with those in our communities who need help," Mr. Fernando added.
According to Dr. Ketheswaran the 292-bed Point Pedro Hospital, established way back in 1893 more than 125 years ago as a rural hospital, serves around 150,000 people in the Vadamarachchi region in the Jaffna peninsula. Around 250 people seek treatment daily at the OPD, while the daily admissions are around 70. The hospital has a medical staff of 11 Consultants and 44 Medical Officers.
"The new ward complex opened on February 26, while increasing the hospital's bed strength and basic facilities for patients, will help improve the quality of care of patients," he adds.
A boon to the women of Point Pedro!
This article was originally published in
The Sunday Times
.