News &
Events
First round of the Dilmah National Blind Cricket tournament completed successfully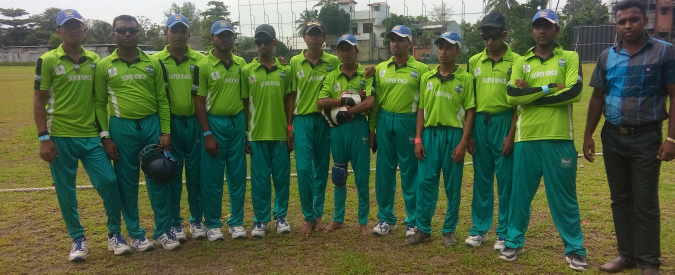 The first round of the Dilmah National Blind Cricket tournament which commenced in April has been completed, with four teams already through to the quarter finals. The final four teams will be selected in matches to be held next week in Colombo. Once the eight teams have been selected they will meet in the quarter finals set to commence June 11th. Played in two main areas, Monaragala and Colombo, the tournament met with slight delays owing to the inclement weather conditions Sri Lanka faced in the recent past. However, the tournament is now back on track with the Semi Final matches to start on the 18th of June, with the Finals to be played on the 25th of June.
It is noteworthy that for the first time, the Association of Cricket Umpires Sri Lanka is involved with the Dilmah Blind Cricket Tournament, with five umpires being qualified as Umpires for Blind Cricket tournaments.
According to Sanjeewa Silva, Operations Manager of Cricket Live Foundation, three players have already been identified for their talents and said that they aimed to help those players develop their talents further. He also said that matches were scheduled in both Monaragala and Colombo, to give outstation players a better opportunity to play in a national tournament of this caliber.
Silva further said that they were maintaining reports to help assess the tournament which would also help towards the continuous improvement of the Blind Cricket Tournament.
The Dilmah National Blind Cricket Tournament helps selectors identify players for the Sri Lanka National Blind Cricket team to play in the World Cup for Blind Cricket, to be held in January next year.
The Dilmah National Blind Cricket Tournament organized by Dilmah which started in 2008, gives all teams registered with the Sri Lanka Cricket Association of the Visually Handicapped an opportunity to participate in a national level cricket tournament. It is an extension of the commitment by Dilmah Founder Merrill J. Fernando towards the dignified empowerment of the differently-abled of Sri Lanka.
The MJF Charitable Foundation has throughout the years assisted the visually impaired through initiatives such as the Knowledge Chest, launched on World Braille Day in 2014, with the aim of voice recording popular books giving the visually impaired access to these popular books while countering the high cost of Braille books. The Charitable Foundation further supports the Subhagya Vidyalaya – the School for the Hearing and Visual Impaired in Monaragala as well as working closely with the School for the Deaf and Blind in Ratmalana.
04 TEAMS FROM EACH GROUP WILL QUALIFY FOR THE SECOND ROUND MONARAGALA & COLOMBO
31
11.06.2016
A TOP
VS
A BOTTOM
SUGER GROUND
32
11.06.2016
A 2ND
VS
A 3RD
ARMY GROUND
33
11.06.2016
B TOP
VS
B BOTTOM
PILIYANDALA
34
11.06.2016
B 2ND
VS
B 3RD
N S C A GROUND
02 WINNING TEAMS OF EACH GROUP WILL QUALIFY FOR THE SEMI FINALS(SIYAM)
35
18.06.2016
WINNERS OF MATCH(A) 16
VS
WINNERS OF MATCH(B) 17
PILIYANDALA
36
18.06.2016
WINNERS OF MATCH(B) 16
VS
WINNERS OF MATCH(A) 17
N S C A GROUND
02 WINNING TEAMS OF EACH GROUP WILL QUALIFY FOR THE SEMI FINALS(SIYAM)
37
25.06.2016
WINNERS OF MATCH NO 35
VS
WINNERS OF MATCH NO 36
DE SOYZA MORATUWA