News &
Events
Enabling the Ex-Abled Through a Celebration of Ability and the Means for Steady Livelihoods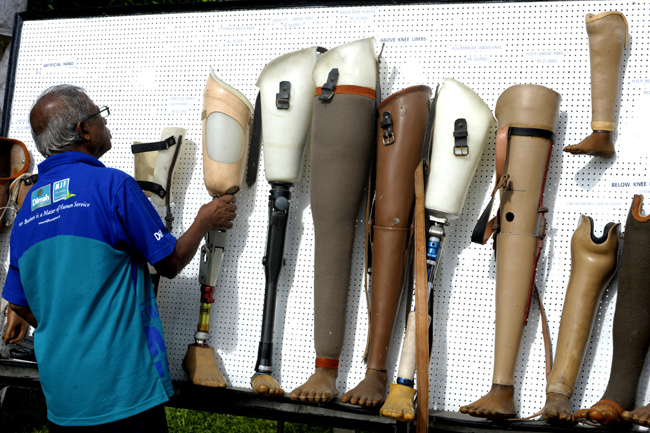 October 2015, Colombo : The AIDEX (Aid to the Ex-Abled) Annual Sports Festival, sponsored by Dilmah and the MJF Charitable Foundation (MJFCF), was held recently in its consecutive 19th year at Wesley College Grounds in Colombo. It has been a special focus of the Foundation, from its inception, to help individuals with different abilities realise their potential, while encouraging them to live non-dependent lives with dignity. Supporting the AIDEX Sporting Event is an extension of this vision and an effort to enable the ex-abled community of Sri Lanka.
This years event brought together over 1000 participants from across the island, including Badulla, Puttalam, Ampara, Kurunegala , Galle, Matara, Hambantota, Vavuniya, Nuwaraeliya, Kandy, Kegalle, Gampaha, Kalutara Ratnapura, Kandy, Matale, Moneragala and Colombo, to showcase their talents and many abilities.
The Sports Day which was looked forward to by the extraordinary-abled children, men and women found the occasion to be more of a celebration than a competition. Of the ex-enabled athletes who took part at the sporting carnival, the youngest was 7 year-old Fathima Anifa and the oldest, A.D Marathenis (82). The oldest participant who won at a competing event was 74 year-old K.L.R. Abeysiri.
The conflict which lasted for nearly three decades resulted in large numbers of individuals losing limbs and suffering severe physical injuries. Many of these were caused by the insidious presence of land mines and precipitated a large demand for prosthetic limbs. There are also those who have at various stages of their life become differently-abled individuals due to unforeseen calamities and misfortune.
In addition to the sponsorship, Dilmah also makes special grants to such individuals attending the AIDEX Annual Sports Festival, through the MJF Charitable Foundations Small Entrepreneur Programme (SEP), thereby empowering them to become more productive citizens of the community.
The Foundations partnership with the event expanded this year with the provision of 23 SEPs, assisting such differently-abled athletes. The loss of a limb or sensory function -be it at birth or later stage in life- affects each individuals potential and creates a negative impact on their lives. The MJFCF identifies the potential of these individuals and offers means for them to generate an income based on their capabilities, ensuring a steady livelihood to support themselves and their families.
Three SEP recipients displayed and sold their cottage industry products, which they were able to manufacture with the help of the MJFCF at the event. One such individual was L. P. Anthony (56) from Ambalangoda. He was the victim of a tragic railway accident, which left him without his right limb. He is engaged in wood crafts and creates nursery educational materials and key tags etc. with wood. His two school-going children and wife support him in his craft. The Foundation, seeing his determination and potential, provided Anthony with a wood working machine worth Rs. 35,000, so that he is able to improve his craft and develop the business. He is now working with the MJFCF to equip the 74 Child Development Centres established by Dilmah with the wooden toys he manufactures.
As part of its work in empowering the differently-abled, The MJF Charitable Foundation also supports the Subhagya Vidyalaya - School for the Hearing & Visual Impaired located in the impoverished Monaragala District. It is one of the few specialised institutions that provide education and vocational training for hearing and visual impaired youth in Sri Lanka. In addition, The Foundation has established the Rainbow Centre in Colombo at the MJF Centre Moratuwa to provide holistic care for children with Autism, Down Syndrome, Cerebral Palsy and other developmental delays. Sithijaya, the Merrill J. Fernando Centre for the Differently-abled is yet another centre that is located in Ambalanthota in southern Sri Lanka. It is a state-of-the art facility that caters to occupational, physical and supplementary therapy requirements of differently-abled children and youth. The objective of all three institutions is to empower people to overcome their challenges and build meaningful and rewarding lives without having to resort to charity.