News &
Events
Empowering Women – Achieving a Double Century on International Women's Day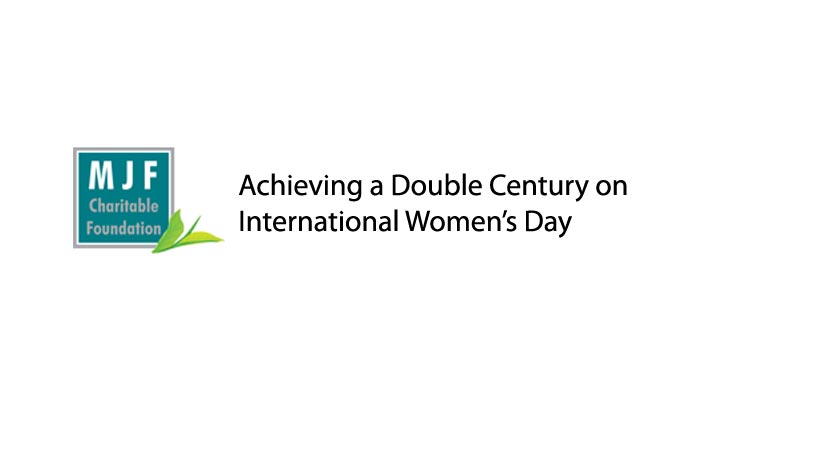 The MJF Charitable Foundation celebrated the 100th Anniversary of International Women's Day in a unique manner this year by awarding livelihood support to 100 war affected women in the North of Sri Lanka. The MJF Charitable Foundation commenced key projects in the Northern peninsula in an effort to empower this region which has suffered adverse socio-economic conditions due to the 30 year conflict that prevailed. In November 2010, the MJF Kids programme was replicated and launched in Point Pedro. This is the second phase of the project which commenced last year to empower the women of the Northern peninsula who are mostly war widows, through the MJF Foundation Small Entrepreneur Programme (SEP).
Founder of Dilmah and Settlor of the MJF Charitable Foundation, Merrill J. Fernando handed out the livelihood support at a special ceremony held on the 12th of March 2011 in Point Pedro, Jaffna. The support extended is in line with the Foundation's globally acclaimed SEP which seeks to empower individuals in a sustainable and dignified manner. The support consisted of assistance for processing dry fish, goat rearing and sewing and dress making, which are cottage industries that these women, who are heading single parent households, can engage in.
Speaking at the event, the Founder expressed his pleasure at being able to extend the activities of the Foundation to the North of Sri Lanka which is recovering after the 30 year conflict that has left it socially and economically ravaged. The Founder was joined by his sons Dilhan and Malik at this event which was organized in collaboration with 'Anjaliaham' an organization led by Fr. Damian Soosaipillai which is partnering with the Foundation on this and other projects to empower the North of Sri Lanka.
Case Studies
Visvanathan Bamini is a 31 year old mother of three. Her husband went missing at sea 3 years ago and she has since then been engaged in manual labour with a dry fish vendor in the area. The Foundation supported her by providing the necessary utensils for processing dry fish and now she is able to engage in the work on her own and sell her produce direct. Bamini works in collaboration with Donald Rajini, her neighbour, who is also a mother of three and is a war widow. Rajini and Bamini work together and are engaged in processing and selling dry fish. They both stated, "We are very grateful to the MJF Foundation for having selected deserving women in this part of the country for their project at a time when we were really in need of support as virtually no one had taken any steps to support us since the war ended 2 years ago". They are optimistic about enhancing their earning capacity through their venture.
Rasakumar Sojosini is a mother of two whose husband was killed 2 years ago. She lives in a temporarily constructed shed. Sojosini has been trained in palm leaf weaving and has produced bags, trays and other such items made of palm leaves. In order to supplement her income the MJF Foundation supported her by providing her with 2 goats for rearing which helps her maintain a sustainable livelihood and support for her two children.
Despite her adverse economic conditions, Sojosini has a positive outlook on life – "I never expected that an organization such as the MJFCF whom we have never seen before would come here to Point Pedro and extend a helping hand to women like me, who are struggling to make ends meet. They have really paved the way for my 2 children to forge ahead and my children and I will always remember them".