News &
Events
Empowering the Future Generation – MJF Kids Leaders Camp 2010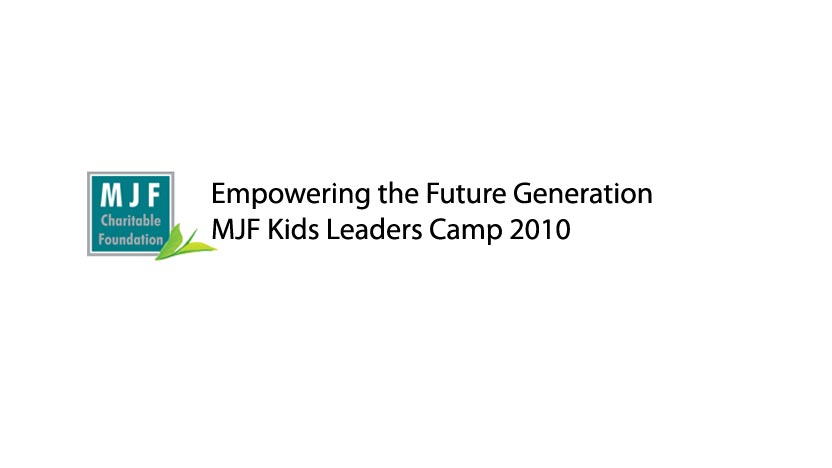 Sixty eight children who are part of the MJF Kids Programme in Peliyagoda, Maligawatte, Moratuwa, Pallansena and Siyambalanduwa attended a Leadership camp organized by the MJF Charitable Foundation.
The MJF Kids programme which guides underprivileged children towards a secure future has expanded the programme to Pallansena, Moratuwa and Siyambalanduwa. The Kids attended the camp held on the 25th and 26th of September at the Diyagala Boys Town (an orphanage for boys) in Ragama, with much enthusiasm and excitement.
The objective of these leadership camps organised for the MJF Kids is to groom the children as leaders by training them to be responsible, teaching them about the importance of time, better utility of resources, and to understand and work within their teams, to overcome challenges in order to forge ahead for a better future.
Leaders Camp 2010 is the second camp organised for the MJF Kids by the Foundation. The significance of this camp was that the children from Moratuwa, Pallansena and Siyambalanduwa attending the camp.
Many activities, challenges and sessions which help the students to overcome challenges, develop positive traits in life such as trust, self- confidence, leadership qualities were conducted for the children. The children also got the opportunity to form new friendships, strengthen their skills and characters.
On the 25th, the day started with meditation and physical training and the kids were divided in to groups. The children were encouraged to interact with each other and build team spirit. They engaged in numerous outbound activities which enhanced their ability to overcome challenges, to build confidence, to be aware of their strengths and weaknesses, and to work as a team and they were also trained on how to plan, implement and achieve their goals through utilising time and resources effectively.
The children were grateful for the opportunities they received and absorbed everything taught at the camp. It was a unique experience for most of them and they shed all their fears as they engaged in their camp activities.
According to Deepika Sandaruwani from Siyambalanduwa who won the award for the best camp book, "I gained immense knowledge from this camp. I found the session on the importance of time valuable and relevant to my life. I determined ever since the session that I will value utilise the time resourcefully. I'm certain I will see a marked change in my life, my studies and other activities. This is my first time in a Leaders camp and I want to make the best camp book incorporating all what I learnt."
According to Maheshika Sandamali (14 years) from Siyambalanduwa, "The camp immensely helped us to overcome our weaknesses. We are now aware that we should build confidence in ourselves and others to overcome challenges work as a team and to improve our leadership skills."
The children were evaluated from day one and the necessity of punctuality and discipline were inculcated among them by the MJFCF team. Towards the end of the day the children were encouraged to perform and display their aesthetic talents to enhance their skills and confidence.
The second day of the camp comprised of sports activities, music and dance. The children received training on first aid and they also had a session with a child psychologist. Most of the children who attended the camp are from poverty stricken backgrounds, orphaned and at times emotionally or physically abused. The psychologist encouraged them and guided them through his session on how to handle their home environment. The kids learnt about love and care for others and to shed all differences among them to work in unity.
13 year old Akila Maduranga stated "I live with my aunt and have four siblings. Since my mother is working abroad as a housemaid, we are looked after by our aunts. I don't get to live with my brothers and sisters because we are all scattered among our relations till our mother comes back. I had a great time at the camp meeting new friends, learning, and working with teams. Since I want to be a national cricketer one day I believe that team work is very important and challenging."
Sajini Nimesha (12 years) from the Moratuwa MJF Centre found the leadership camp helpful as she believes it will enhance her abilities and talents and help build her character. "I made a lot of new friends and it was great spending two days with them. I learnt about team work, overcoming challenges, leadership qualities such as responsibility, taking care of others etc. We were also taught the importance of kindness and love. I believe that what I learnt will help me in life and help me to achieve my dream of being a banker."
The camp ended with a camp fire attended by Dilhan C. Fernando and Dilmah staff. The children and the staff performed dances, drama, song and music and enjoyed the evening. The creativity and the imagination of the children were further displayed through their fancy dress costumes during the camp fire.
Some of the children were nervous on their first day at camp. However with the end of the camp most of them were reluctant to leave.
Maheshika Sandamali (14 years) from Siyambalanduwa acknowledged "I was nervous when I came on the first day but I wish we could stay at least another day. The camp immensely helped us to overcome our weaknesses. We are now aware that we should build confidence in ourselves and others to overcome challenges, work as a team and to improve our leadership skills."
The Leaders camp 2010 was a success and the children were rejuvenated as they left the camp with hope for a better future.