News &
Events
Empowering marginalized victims of war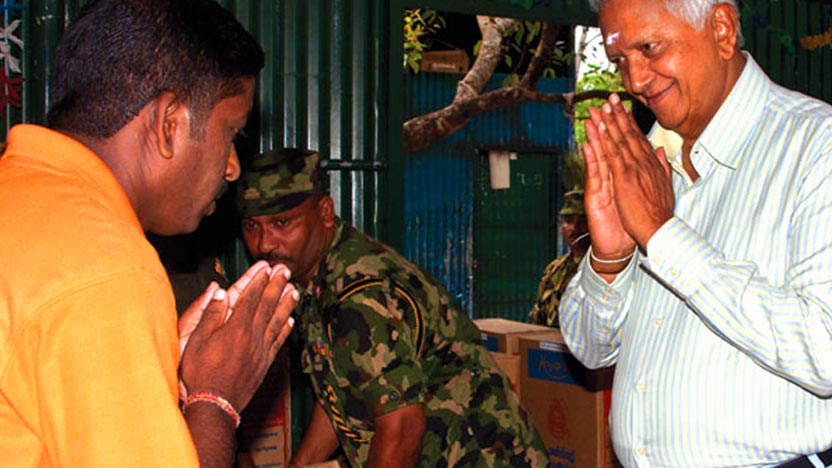 The MJF Charitable Foundation's Small Entrepreneur Programme (SEP) recently granted 14 rehabilitated former LTTE carders housed at the Sinhapura Camp, located close to Thoppigalain in Eastern Sri Lanka, essential equipment and tools to launch a vocational-based business of their own. These beneficiaries of the SEP are marginalized due to the now-concluded war that destabilized the country and are seeking to re-establish themselves in society. The 14 individuals were offered machinery and implements to commence operations in the fields of agriculture, hairdressing, carpentry and other home-based small industries.
Since its inception in 2004, The SEP has helped to re-establish people in business by identifying those who had the capability, commitment and desire to better themselves and their families, by translating their commitment and dedication into a product or a service. The programme assists beneficiaries such as entrepreneurs who show promise, individuals disadvantaged as a result of conflict and prisoners released on parole with a grant of up to Rs 50,000 per 'entrepreneur' in the form of equipment, but never cash. Thereafter, additional support is granted to those that demonstrate the ability to develop their business further. SEP also includes an apprenticeship programme whereby successful enterprises are monitored on a quarterly basis and are required to take on trainees. These trainees, in turn, could qualify for SEP assistance themselves, who in turn take on apprentices in the course of developing their own businesses. The ripple effect therefore is increased sustainably, benefitting the lives of more and more people within the community.
The Small Entrepreneur Programme provides deserving individuals with the necessary means to commence a new business venture or to improve their existing one. To date, the SEP has positively touched the lives of over 1200 people. The SEP has been internationally acclaimed as one of the most effective self-help programmes since it focuses on building on an individual's talents allowing them to live independent and productive lives.