News &
Events
Dilmah: Empowering the Differently Abled through AIDEX 2010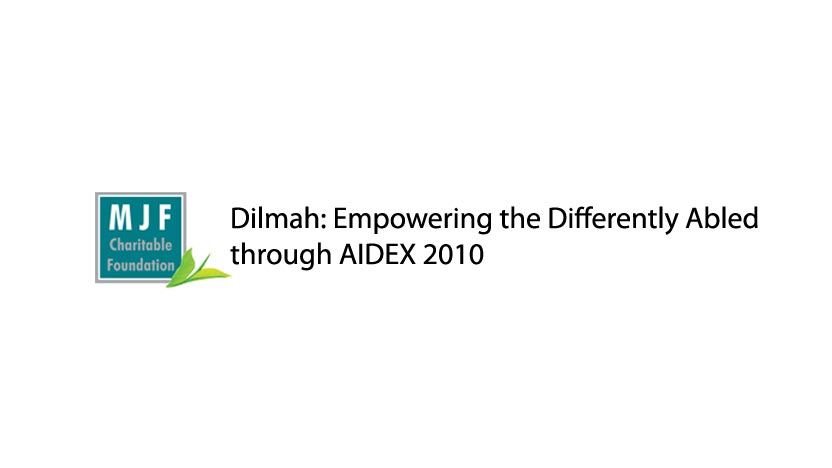 AIDEX 2010 (Aid to the Ex-Abled) Annual Sports Festival was held on the 10th of October 2010 at the Colombo Municipal Grounds. This event is organised by the Colombo Friend-in-Need Society which helps supply limbs through the Jaipur Foundation for artificial limb users throughout Sri Lanka.
Dilmah has sponsored this event since 2003. The Aidex Sports meet includes participants from all age groups and from all parts of the country including soldiers who lost their limbs during the conflict in Sri Lanka. Participants were given the opportunity to take part in track, field, cycling and archery events. The event is organised to support and strengthen the differently abled children, men and women in the country.
It was inspiring to witness the determination and eagerness of the participants as they took part in many events. Participation itself was a victory for these individuals. Most of them have participated in the sports meet since its inception. One such participant is Nimal Perera (40 years). Nimal was knocked down by a lorry when he was eight years old and his leg was amputated at the age of sixteen. He received an artificial limb in the 1980s by the Jaipur Foundation and was offered employment from the same organisation. Currently he is working at the Kalubowila National Hospital where he helps with the fitting of artificial limbs. Having won the gold medal in the 100m event for eight consecutive years, Nimal said "I never think of any task as impossible. I can swim, climb and do anything that I set my mind on."
Fourteen year old Harshini Kumari lost her leg due to a family dispute. However she does not let this incident obstruct her future. She aims to be a doctor when she grows up.
It was a moving sight to see all the determined participants enjoying the day despite unfortunate incidents which have taken place in their lives. As Dayawathi Balasooriya stated, "We have to live our life no matter what happens, I'm content with my life." Dayawathi won the silver and bronze medals in 100m and 200 m events in the past two years. She lost both her legs and used to engage in her daily work by crawling till she received artificial limbs in 2007.
Another participant who aims for a better future is Mohammad Irshad. Mohammad lost his leg when he was two years old due to a train accident and is thankful that he was provided with an artificial limb from the Jaipur Foundation ever since. Now, 22 years old, Mohammad will be following a degree in business management in the near future.
Although programs such as AIDEX offer psychosocial care and support, there is still a need for greater awareness and support to be given to the differently abled community and other disadvantaged communities in Sri Lanka. Dilmah is committed to working towards empowering such communities by helping them to realise their potential and live non dependent lives with dignity. The Sithijaya Centre for the differently abled in Ambalanthota, the Diri Daru Piyasa Centre for differently abled children in Moratuwa and the Daskam Nivasa at the Monaragala Blind School are some of the projects supported by the MJF Foundation.