News &
Events
Dilmah brings help and hope for more families at Dunkeld Estate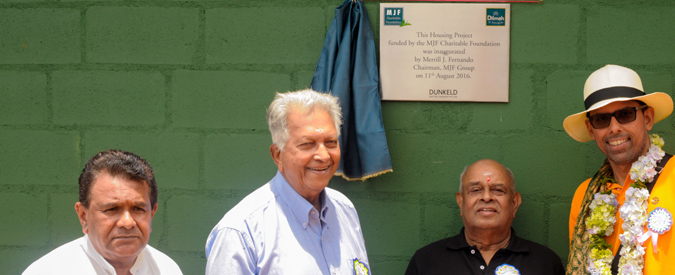 It was a new lease of life for 21 estate families in the upper division of the Dunkeld estate when they received the keys to the brand new housing units built by the Merrill J. Fernando Charitable Foundation. Most of the beneficiaries were extended families who were hitherto living in deplorable conditions, confined to single roomed line houses of their parents.
The official ceremony to handover the housing units, took place on August 11 at the estate premises amidst colourful celebrations. The occasion was graced by Dilmah Founder Merrill J. Fernando as the Chief Guest, his son Malik Fernando and many other guests including Dilmah global partners.
The ceremony also saw the inauguration of the foundation built créche/ the Child Development Centre where the children of the estate workers under the age of five, will receive education, care and nourishment, totally free of charge while their parents are at work. The newly refurbished kovil in the upper division was also handed over to the community on that day.
The recent project opening at the Dunkeld Estate Upper Division marks the completion of the second phase of a series of initiatives carried out by the Merrill J. Fernando Charitable Foundation (MJFCF) to holistically develop the estate since Dilmah acquired full ownership of the property few years back. The development projects conducted over the years include facilitation of basic amnesties needed for the estate workers such as housing, health centre with accesses to free medical treatment for small ailments, créche and the child development centres. The foundation has also provided assistance to the Government school in the estate by providing an IT lab and water connection.