News &
Events
Creating Awareness on Reproductive Health for Dilmah Employees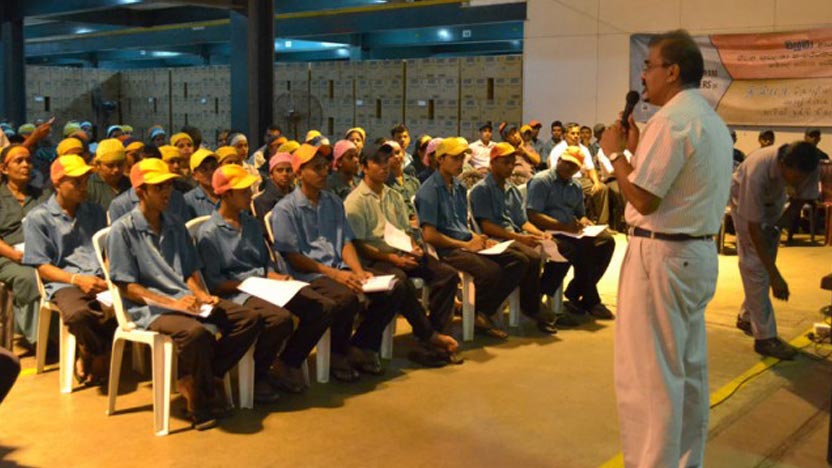 Over 650 staff members of Dilmah Tea employed at the Peliyagoda factory premises attended a Sexual Reproductive Health and Family Planning workshop on 7 July 2014. The programme, organized by the MJF Charitable Foundation (MJFCF) together with the Family Planning Association of Sri Lanka discussed family planning and contraception, safe motherhood (including components related to unwanted pregnancies), Sexually Transmitted Infections (including HIV/AIDS), reproductive health and its importance to physical and mental wellbeing,while looking beyond cultural misconceptions and stereotypes.
Dr.Nelli Rajaratneand and M.P.T. Mahesh Kumara from the Family Planning Association conducted three sessions within the day that concluded with question and answer sessions where many of the employees were able to clarify doubts and concerns regarding the subject matter. The staff also appreciated the discussion on a somewhat culturally taboo topic that limited access to knowledge and necessary information for youth in Sri Lanka.
Speaking after the event, a female member of the audience said, "This workshop was truly beneficial for both married and unmarried individuals alike. It provided us with information that is essential to our health and wellbeing and offered insight into the many aspects of reproductive health. It was after sitting for this session that I realized that there were so many things we were unaware of. We hope that the Foundation will continue to hold workshops like this for us in the future."
Dr. Rajaratne also mentioned that through a workshop of this nature, the MJFCF creates a platform that allows for the exchange of information and awareness on a subject that has remained shrouded in myths and uninformed assumptions."The MJFCharitable Foundationis providing a very necessary service to their employees with this workshop. It helps create awareness and develops knowledge on reproductive health, family planning and life skills. This is an admirable effort by the MJFCF and I look forward to working with them through the Family Planning Association in the future," she explained.