News &
Events
Celebrating The Magic of Giant Puppets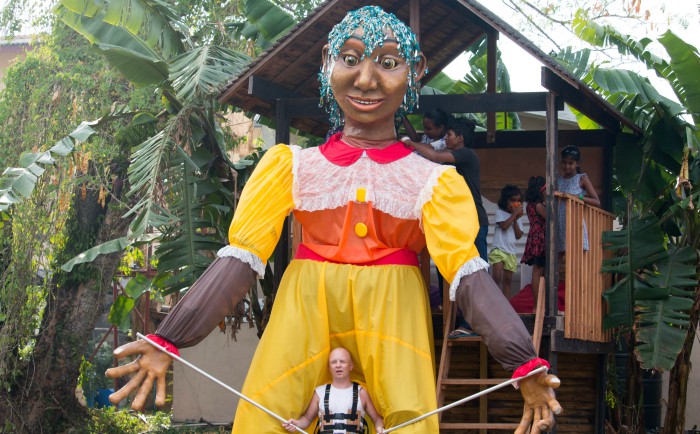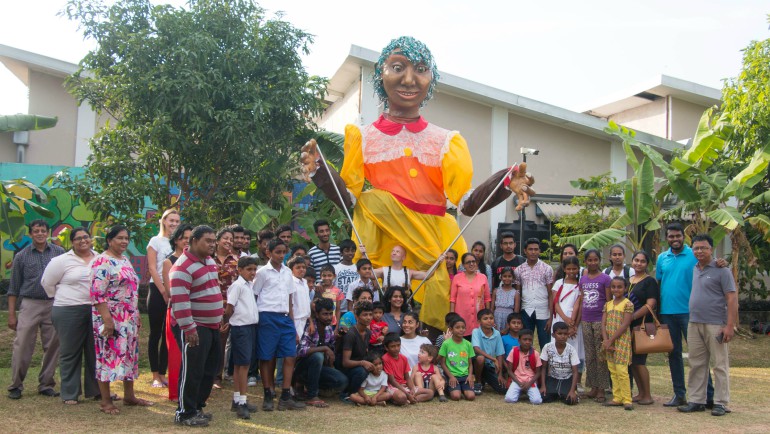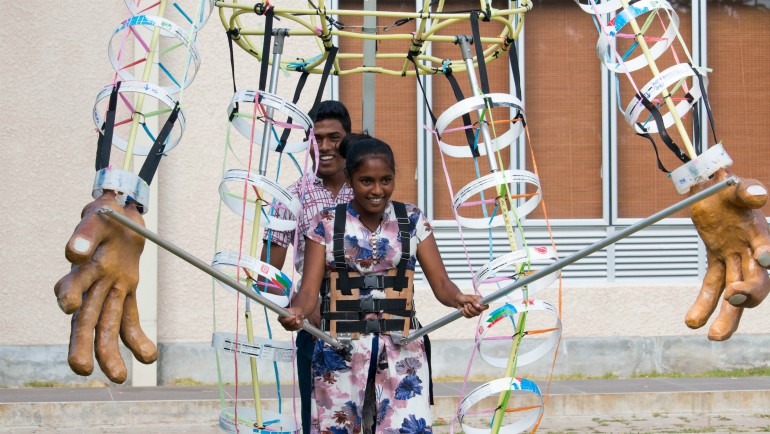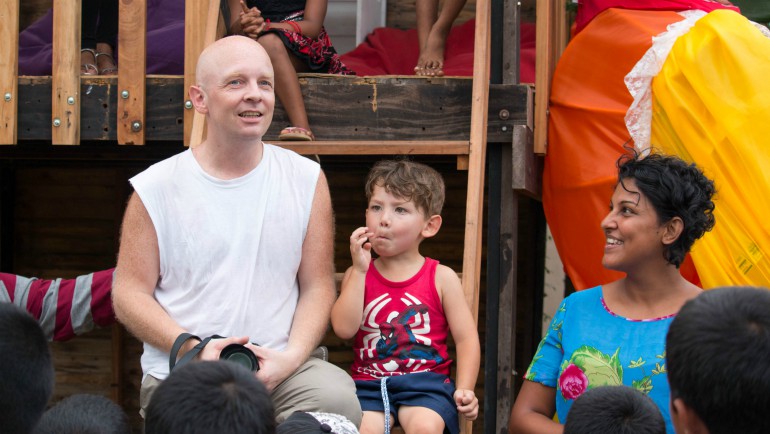 Giant Puppetry is not a new concept around the globe and it is finally making its entry to Sri Lanka taking the art in to a whole new level. MJF Charitable Foundation collaborated with a team of artists to redefine and promote giant puppetry in Sri Lanka not only as an art form but as a viable enterprise to deliver performances and secure clientele from all walks of life. Once the team was conceived, Felix and his team of MJCF youth started working on the fascinating Giant Girl Puppet project. Work began on the 10th of January 2017 and was completed in 3 weeks. The Girl Giant is primarily made out of recycled materials to meet contemporary goals of sustainability. That's what make her extraordinary.

The premiere of the performance was held at MJF Charitable Foundation, Moratuwa on the 1st of February, 2018 for an audience of special invitees and friends of MJF family. Now that the puppet is finally unveiled to the public, MJFCF's wish is to create a professional giant puppet team at MJF Moratuwa in the future as a form of entertainment, education and communication by continuing this art as an income generating project for youth.


Who is Felix?

He is the mastermind behind the creation of The Giant Puppet. Felix Widen Norgren is a Swedish artist whose art of puppetry was born out of a workshop by "Les Grandes Personnes". His first Giant Puppet was "Campesino Juan". In 2014, Felix created his most advanced giant puppet "Samita", a Puppet equipped with a system to make remote-controlled eye movements, bringing to life authentic human-like expressions. Felix's work continues to fascinate diverse audiences around Sweden and now attracting the eyes of admirers and artists overseas. He was kind enough to spare some of his valuable time in sharing his journey in the making of The Giant Puppet.


What inspired you to make puppets?

I studied art at 4 different schools in Sweden and came into contact with 'Les Grandes Personnes', a French giant puppet company which conduct workshops around the world in construction, manipulation and performance of giant puppets. I learnt the art of puppet making and formed my own company "Suenos de Mache" in Chile. I continued my passion for puppet making by adapting the French design with added improvements and my original ideas. It's a learning process that never ends.


How long does it take to build a giant puppet?

Well, ideally you need at least a week to source the necessary materials and get the plan executed. 60-70% of the materials used here are recycled. I work with easily source-able hardware and junk. We gathered most of them from Moratuwa and from Dilmah's Head office. The efficiency depends on your team's work. We finished this Giant Puppet in 3 weeks, making it one of the most fast-paced projects I have done so far. Only a little more fine tuning remains and she will be ready to walk the streets.

What brought you to Sri Lanka?

Sulochana Dissanayake who works as a consultant on psychosocial projects at MJF Charitable Foundation, contacted me after stumbling upon my work on YouTube in 2012. She invited me to come to Sri Lanka to conduct a giant puppet workshop but it took me a while to acquire the required finances. In 2017, I was able to fund my trip and in December, I came to Sri Lanka with my wife, Petrushka and 4-year-old son Lino. Initially, the plan was to conduct research into Sri Lanka puppet making history and run a workshop to understand the needs and opportunities. But we ended up creating a giant puppet instead.


Making a giant puppet is a collective creation that involves the meticulous hands of many artists. Talk about your experience working with the team?

Sandaruwan Silva is from the MJF Carpentry Division who headed the project with a few active youngsters from MJF Youth. He has been a student at MJF for 7 years and has successfully built a career as a carpenter. His contribution was very helpful to the creation of the Giant Puppet.

We also had D.M Amaradasa, a Master Puppeteer and an Audiovisual assistant at Gannoruwa - Agro Tech Park to assist us with the painting. I want the Giant puppet to be realistic. Amaradasa has done Justice to that by making the texture, color and the facial traits appear similar to a real human.


What makes your Giant Puppets special?

As a performer, I am concerned about the weight of the figure as it's important for the manipulation of the giant puppet. I constantly improvise methods and techniques to reduce the weight. For example, the harness that I wear is the result of so many failures and experiments. For arms, I replaced the ventilation tubes in the original plan with my own design. I used a spring-like contraption made from rings cut out of plastic paint buckets. I am quite happy with the end design now. It perfectly fits your body and you hardly feel the weight of the mammoth figure.


Can you briefly explain the construction phase?

We start off by making the wooden frame. That is the base. Then we make the face out of bottles and seal it with cardboard layers and chicken wiring. To smoothen the surface, we use clay. This is a delicate process which entails a lot of risks. Getting the right texture of clay is very important as it helps you to effortlessly mold and knead the required shape of the face.

When you sculpt objects, do you always think about the local context?

Of course. This is my 3rd giant puppet and each one is different from one another. I take into consideration the unique characteristics such as the use of skin, eye colour, facial features and costumes to cater to the local audiences. We create a sense of intimacy between the spectator and the puppet through the design. In puppetry, there should be an interaction between the audience and the puppet, not just a visual performance.



Felix has a dream. "I want to take away the noise and traffic on the streets for at least half a day and see it become a spectacle with giant puppets and play".

Yes. We need to animate public places and spark the will to bring plastic arts to life. This requires the collective and multiplied collaborations with puppeteers, performers, musicians, choreographers and writers.

The Giant Puppet still remains anonymous. She is currently being dolled up for her big day - the "World Puppetry Day" which falls on March 21st and will be back to captivate spectators and spark a magical sense of wonder with a three-dimensional storytelling experience.