News &
Events
Blind Cricket: Dilmah Challenge Trophy tomorrow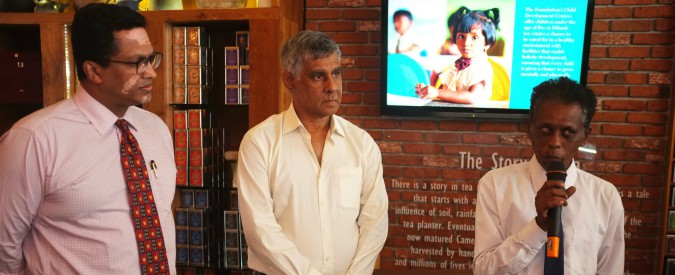 The 6th Dilmah Challenge Trophy National Blind Cricket Tournament is set to begin tomorrow, it has been announced. The tournament, which will run over the course of nearly two months from 3 June-29 July, will see 11 teams taking part in 30 matches across Colombo and Monaragala.
This year's tournament is being organised by Dilmah, who have been supporting the event since 2005, and the Sri Lanka Cricket Association for the Visually Handicapped (SLCAVH). Together they hope to attract many more novice players to the sport by giving all teams registered with the SLCAVH the chance to compete at a national level, with the tournament's best players being selected to play for the national side. The teams, which include those from the North as well as Army personnel, will consist of both fully and partially blind cricketers.
"It reflects a commitment not only as a business and a family but as a nation, to recognise these gentlemen and to recognise their ability to celebrate what they can do, and not to focus on what they cannot," said Dilmah Marketing Director Dilhan Fernando at media briefing on Wednesday.
"We have been very honoured for several years to have been involved with several of them, and why that has been particularly inspiring is the effect it has had on each of them. Many of the young men who have participated have gone on to develop themselves, because the most important thing of this challenge trophy is the dignity that it offers the contestants."
Sri Lanka has been the third best team in the world since 2012 and Norbert Silva, Secretary of the Sri Lanka Cricket Association for the Visually Handicapped, expressed his gratitude to Dilmah for their continuous support in this achievement.
"Dilmah are the first organisation who joined us to uplift and upgrade cricket for the visually handicapped. I think before 2005 we couldn't arrange any national tournaments but now we're about to hold our sixth one. It has at times been a challenge to try and improve cricket for the visually handicapped in the country but we had to accept the challenge, if not we would've have been neglected."
The national blind cricket tournament is a cause close to the heart of Dilmah Founder, Merrill J. Fernando, who established the MJF Charitable Foundation to fulfil his commitment of making "business a matter of human service".
Said Fernando in a press release: "A national blind cricket tournament is a manifestation of their strengths. It is everyone's responsibility to help them develop their talents. Sri Lanka is known as a cricket country and the Dilmah country, and I hope that visually impaired cricketers will gain due recognition through the event."
Apart from supporting the national blind cricket tournament, the MJF Charitable Foundation has throughout the years assisted the visually impaired through various initiatives such as the annual AIDEX sports meet that rewards the talents of the differently-abled community in Sri Lanka and the Knowledge Chest initiative which voice records publications to ensure those who are visually impaired have access to vital publications without having to bear the high cost of Braille books. The MJF Charitable Foundation is also working closely with the School for the Deaf and Blind in Ratmalana and SubhagyaVidyalaya - the School for the Hearing and Visual lmpaired in Moneragala. (MB)