News &
Events
Asirimath Iskole the "School of Inspiration"; a gift to the village of Koul Ara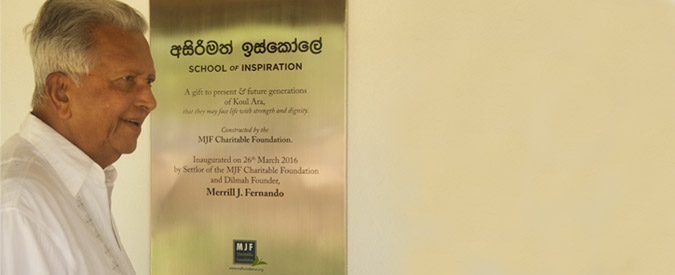 The Asirimath Iskole, the "School of Inspiration" in the rural area of Koul Ara, was declared open on Saturday, March 26th, 2016, by Settlor of the MJF Charitable Foundation (MJFCF), Merrill. J. Fernando. The new pre-school building was partially built when the MJFCF assisted with funds to complete the construction. The actual construction work was carried out by the parents of the children and volunteers from the area to make this a truly community project, one that the residents have complete pride in. The modern pre-school provides the kids with an encouraging environment to nurture and develop, so that they are now able to face life with strength and dignity.

Founder of Dilmah, Merrill J. Fernando thanked everyone who helped make the school a reality and emphasized that it was a gift to the whole village. "I get satisfaction by helping the less privileged with my money, rather than keeping it in the bank. My blessings are not just for me, I will not be taking them with me. I want to share with others who have less", said the Settlor.

From a dilapidated state the new school is now a place of inspiration as the kids are encouraged to be creative with proper guidance and discipline towards studies. The school will help the children from this rural area set the groundwork for a new environment that will help them towards achieving a better future. The tools and toys used at the school are simple but effective allowing the kids to reach their full potential.
"We are very happy and proud about our School of Inspiration. It will help our children become creative individuals", said K. Sarojana, a proud mother. The MJF Charitable Foundation runs over 80 child care centres and schools across Sri Lanka; it is much more than a charity, working towards empowering the community and making a difference in people's lives.