News &
Events
A Visit To National Centre For Children With Cerebral Palsy And Other Developmental Disorders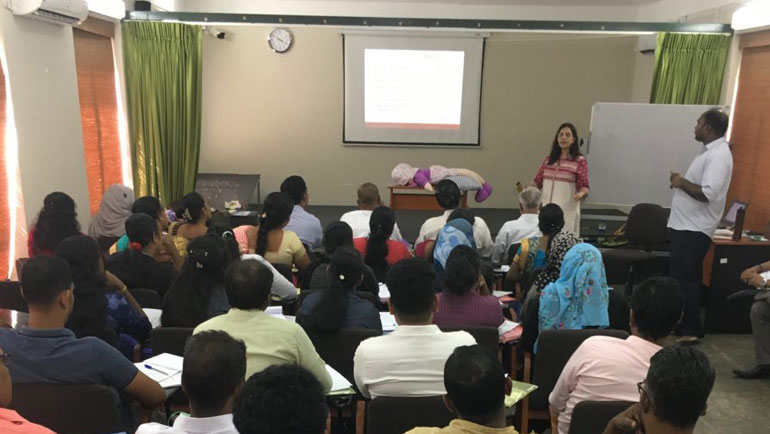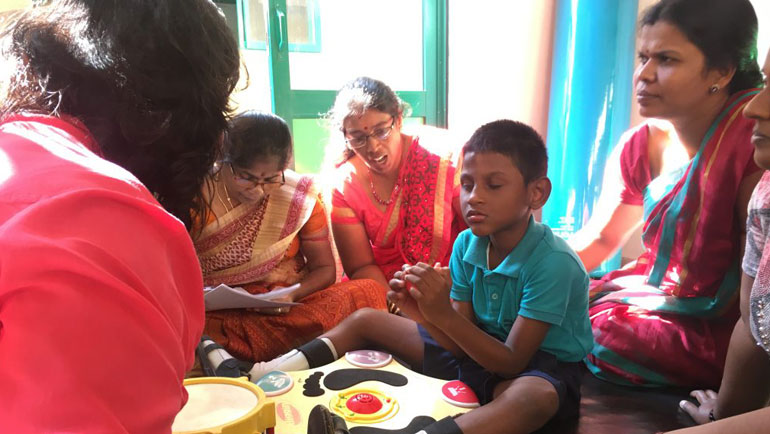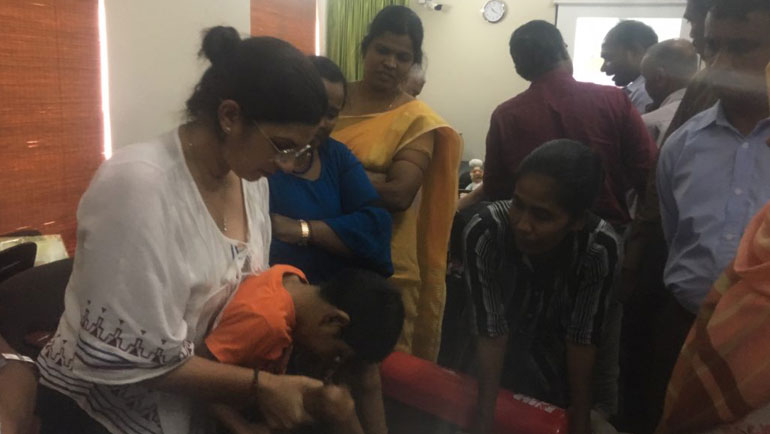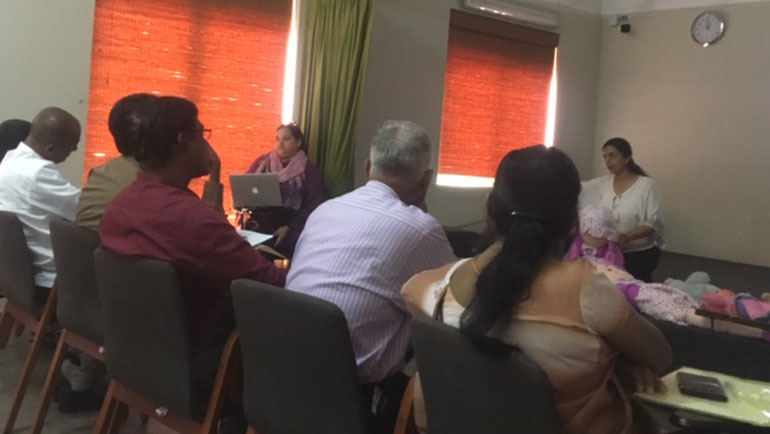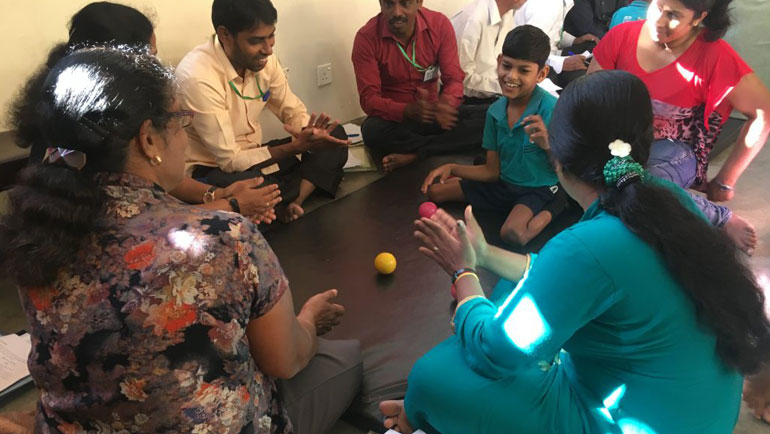 MAITS' CEO went to visit one of our long-term partners, the National Centre for Children with Cerebral Palsy and other Developmental Disorders (NCCCPDD), who we have been working with for a number of years, providing different types of training when requested. The NCCCPDD provides training to others and calls upon MAITS to provide training in the areas of greatest need and they are typical of the kind of organisation that we are proud to partner with. Here, Esther explains a bit more.
National Centre for Children with Cerebral Palsy and other Developmental Disorders (NCCCPDD)
On arriving at the NCCCPDD and meeting the director Gopi Kitnasamy and his wife. It is hard not to be completely blown away by their story and what they have achieved.
Gopi explained:
"I am a Physiotherapist by profession and at the beginning of my career had been considering whether to do a degree in Dental Sciences or Physiotherapy. I chose Physiotherapy and only later on did I come to understand why this was such a significant choice. Our son, Danush, is now 19 years old and has cerebral palsy. Due to my profession, I was able to work to support him, but when it came to time to send him to school, I was told that there were many options. My wife and I went along to school after school only to find that the reality was somewhat different. Each school we visited, either did not want to know, because he is in a wheelchair, or they were not accessible, with no ramps and just lots of stairs so he would not have been able to access the buildings. After much pushing, my wife and I realised that the best thing we could do would be to set up a school ourselves.
So that is what we did. We set up the Cerebral Palsy Lanka Foundation and the Dream Centre for Children with Cerebral Palsy and in the beginning; it was just my son and two of his friends who also had cerebral palsy. As time went on, the centrel grew and within time, we had the blessing of partnering with the MJF Foundation which is the charitable foundation for the Dilmah tea company."He chuckled, "if you came to Sri Lanka via Sri Lankan airlines and had the tea, you would have had Dilmah tea!"
And so now here we are… We now have five MJF centres across Sri Lanka and the dream (vision) is to have a centre in all the districts in Sri Lanka."
Gopi is extremely modest about all his centres have achieved, but when you visit, the facts speak for themselves. Between them, MAITS trainers and our CEO visited the centre everyday for 6 days to carry out the training. In this time, we were able to meet the dedicated staff team, many of whom have family members who have cerebral palsy and who have been able to take back home what they have learnt and put it into practice there, as well as at work. We met about 15 parents, one grandparent and their children and saw the children in school, undertaking a range of activities, including hydrotherapy, physiotherapy and sessions with the parents and teachers. We also saw them at play in the wonderful playground that was developed for the centre, where the equipment is designed for children to use in their wheelchairs. This included a swing, merry-go-round and a see-saw that children could get into in their wheelchairs and strapped in to enjoy the fun. What I really loved was that they had made sure that another swing suitable for children in wheelchairs has also been built for Viharamahadevi park, a public park near the town hall in Colombo, so that families can take their children on a day out and they will not be left out.
So many parents came up to speak to me whilst I visited to tell me just how much difference the school had made to their children's lives and how it had been life-changing.
One mother came up to me and told me how much she had liked the sessions she got to participate in with our training team and how she was grateful everyday that her son attended the National Centre for Cerebral Palsy. She said "before my son started there, I cried everyday, not knowing how to support him. His condition was relatively mild and therefore, he had not been diagnosed straight away. When he started the school, I received so much support and advice and he really started to do well." The tears welled up in her eyes as she spoke and she told me "I was blessed to have a son with this condition, because he opened my eyes to how to be a better person, to learn to be grateful for what we do have. I have met other parents and made friends who understand our family. I believe God gives these special children to parents and gives them the strength to help them. I am happy to have found this place where my son can get help and I am so grateful to have such a special child, for he is special, they all are."
She was just one of many parents who spoke to me about how life-changing the National Centre for Cerebral Palsy has been for her family. MAITS is proud to work with Gopi and his team and it reinforces our belief in our approach which is to be there to serve and support fantastic, local organisations. We could not do the work that they do better than they do, we could not know what their community needs better than they do. But we are there, to support with training needs, in areas that they and all our other local partners have identified. We bring volunteer trainers who give freely of their time, support their costs and contribute modest amounts to enable trainees from out of area to get transport and accommodation where needed so that they can attend training.
We are proud to maintain an ongoing relationship with so many wonderful local organisations, who can benefit free of charge from our training and who, most importantly, we maintain an ongoing partnership with.
As I walked around the centre, day after day, between the training sessions that I was observing, whilst meeting parents and staff, I kept looking around and thinking "this place is amazing, all this is because of two people, two parents, who knew that not just their child, but so many more, deserved so much better. And then they made it happen." And we are very proud to walk alongside them on their journey.
The National Centre for Cerebral Palsy is just one of our wonderful local partners. We work with many amazing organisations and have worked in 20 countries around the world through our team of qualified volunteers.
Please click here to View the Full Original Article.