News &
Events
A helping hand for those living with Cerebral Palsy and Developmental Disorders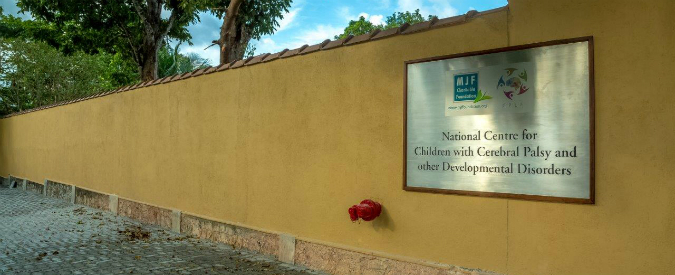 The teenagers on wheelchair, accompanied by their caregivers, lined up at hallway of the National Centre for Cerebral Palsy and Developmental Disorders in Ambagahawatte on the outskirts of Colombo to attend the official opening of the Centre. They witnessed the ceremonial ribbon cutting by Thachchayani Srikanthan; their curious eyes kept gazing at the oil lamp that was kindled. For these children, lighting the lamp meant a lot more than a mere tradition for it was symbolic of a light that was illuminated for them to step out of their world of darkness.

October 5, 2016 marks a special day in the lives of those living with Cerebral Palsy and Developmental Disorders in Sri Lanka - as much as it becomes a momentous milestone in the journey of the Merrill J. Fernando Charitable Foundation (MJFCF). The National Centre for Cerebral Palsy and Developmental Disorders, officially inaugurated to coincide with World Cerebral Palsy Day, serves as a national hub in giving education, therapy and training, not only for those living with CP and other developmental disorders but also for their caregivers and for teachers and trainers who work with such special needs individuals. Facilitating individual/family/ community oriented rehabilitation, it is believed, would enhance the quality of life of such individuals.

The lack of awareness and social stigma associated with Cerebral Palsy and Developmental Disorders often lead to children and youth with such conditions having to lead a life of isolation and marginalisation, particularly in the absence of a national level programme to facilitate the integration of such groups into mainstream society by way of early intervention, special education, therapy and family training /counselling. Having identified this serious vacuum, MJFCF, partnered by the Cerebral Palsy Lanka Foundation (CPLF) spearheaded the task of establishing the National Centre for Cerebral Palsy and Developmental Disorders (NCCPDD) and the Database of Persons with Developmental Disorders, to build a better understanding of these conditions, and thereby alleviate the pain of those shunned and the neglected; to give them a chance to lead a dignified life free of marginalisation and social stigmatisation. The MJFCF run Moratuwa Centre already provides care for those with Cerebral Palsy conditions attached to its Rainbow Centre initiative and the newly set up NCCPDD will reach out to a wider community, making a tangible difference in the lives of those with special needs.

Speaking at the inauguration, Dilhan C. Fernando, the son of Dilmah Founder Merrill J. Fernando emphasised the need to change the mindset in Sri Lanka to allow children with developmental disability to achieve their potential. "There is a very unfair stigma associated with these conditions. People who are different are considered disabled. We want to overcome that. These kids may be different but they are absolutely not disabled, unless we treat them as such. In Sri Lanka there is a terrible dearth of information on these conditions and the efforts of the NCCPDD is to address that gap and make them engaged members of society, " he added.

Through the global network of Dilmah, MJFCF expects to bring best practices and expertise from around the world to the NCCPDD to train the professionals.

Addressing the gathering, Gopi Kitnasamy, Chairman/Founder of CPLF said that the Centre is a dream come true and the objective is to replicate similar centres around Sri Lanka. The Database of Persons with Developmental Disorders, he said will be launched on December 3 and the NCCPD has partnered with several organisations abroad in setting up the database, Gopi added.