News &
Events
11 Teams will battle for supremacy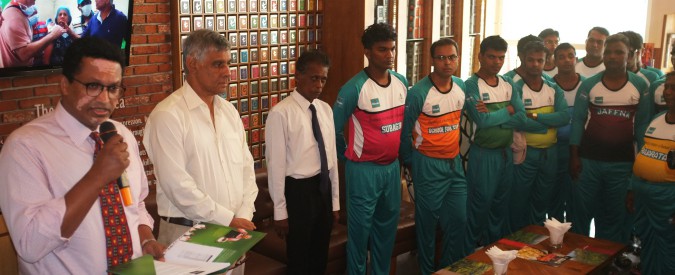 Eleven visually impaired Cricket teams will battle for supremacy in the 6th Dilmah Challenge Trophy National Blind Cricket Tournament scheduled from June 3-29.
Organized and sponsored by Dilmah Tea, with a passion for promoting social inclusion of the visually impaired. It is a celebration of the capabilities and the sportsmanship of the visually impaired spread across the country, through the game of Cricket.
Teams comprising of players who are fully or partially blind will compete in 3 qualifying rounds, with a total of 30 matches in Colombo and Moneragala, in the run up to the finals between the last two victorious teams. Teams from the North and from the Army will make the tournament more competitive
The following will lead their respective teams in this year's edition:
J.P.D. Ravindra- RanawiruSevana, Ragama, W.A. Chandana- Shakthi Sports Club, Moneragala, P.G. ArunaKrishan- Super Kings, Tangalla, J.B. Ekanayake- RajarataJayawiru, Anuradhapura, L.R. MadushankaWishwanath- Council for the Blind, Colombo, S.A. Saman Jayantha Kumara- Siha Shakthi Sports Club, Nittambuwa, M. Jathees- Brilliant Sports Club, Batticaloa, W.L.A. Jayantha Ratnasiri- Subaggaya Sports Club, Moneragala, J.A. SupunSampath- School for the Blind, Ratmalana, R.P. Samantha Rajapaksha- Senehasa Sports Club, Tangalla and AmirthalingamKrishan- Jaffna Sports Club, Jaffna,
The National Blind Cricket Tournament is close to the heart of Dilmah Founder, Merrill J. Fernando, who established the MJF Charitable Foundation to fulfill his commitment to 'make the business a matter of human service'.
At a press briefing held at the Dilmah 'Lounge' last Wednesday, it was said that, continuing the tradition of sponsoring the tournament since 2005, is to enable the visually impaired through the game of Cricket and announced its collaboration with the Sri Association for the Visually Handicapped in organizing this year's tournament.
Please click here to view the Source Article in The Sunday Times