News &
Events
"I cannot express what it feels to hold the keys to our own home"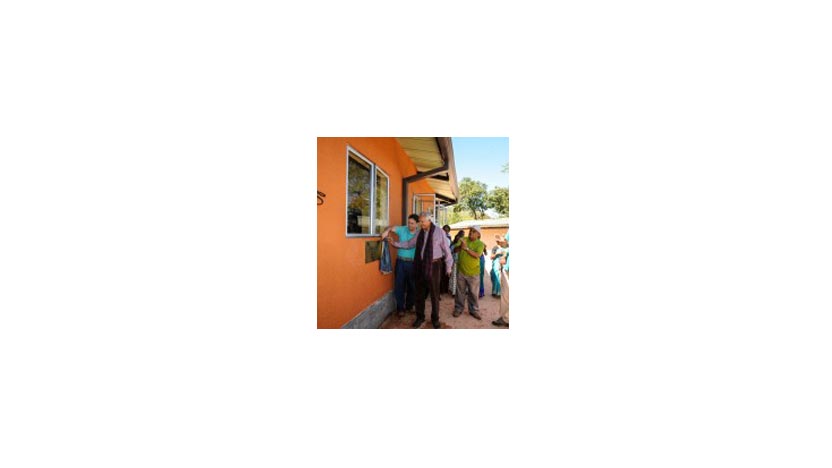 (Dickoya, Sri Lanka – 26 January 2015): "I cannot express what it feels to hold the keys to our own home," said Jasmine Radhakrishnan (27), born and bred on Dunkeld Estate. "This new house is a dream come true and we can now plan for a better future with our children."
Jasmine joins a group of nearly 50 families on Dunkeld Estate to receive permanent housing built by the Merrill J. Fernando Charitable Foundation (MJF CF) since Dilmah acquired full ownership of the property. In October 2014, work was started on constructing new housing units according to a selected prototype, all on the lower division on Dunkeld estate overlooking the picturesque Castlereagh Reservoir.
A total of 49 families residing on Dunkeld estate received permanent housing. These families were selected as some of them were living in potentially unsafe temporary accommodation, while others were sharing homes with more than one family per house. Hence, with all these families moving into occupy their own homes there will no longer be any plantation workers of Dunkeld estate living in temporary shelter—a historic achievement for any privately-held tea company.
"As a mother of a one-year-old baby girl, I am now able to work – my mind at peace, for my young one will be cared for in a specialised crèche cum Child Development Centre (CDC)," said a smiling Jasmine as a child safe space was also inaugurated on Dunkeld estate. "Further, my daughter will be guided with the education and learning support needed for her to gain entry to a good school at Grade One. I am so hopeful for her future," contended Jasmine. The newly revamped CDC, serving as a preschool with playground requirements catered to as well, will exclusively provide education facilities to 40 children of Dunkeld estate workers from 6 months – 5 years of age, while also giving them mid-day meals.
On the occasion, Dilmah Founder Merrill J. Fernando also inaugurated a purpose built modern health centre, which replaced a previous one-room dispensary. The facility will be managed by the estate medical assistant (paramedic) and plantation welfare officer. While the government midwife will visit the centre once a week, centre will be open till evening for use by over 1,200 persons working on the estate, whose basic medical needs will be covered by it. Further, MJF CF has made arrangements for the government Medical Officer of Health (MoH) to conduct immunization and anti-natal clinics once a month. All medical treatment and allied facilities, including the CDC is provided free of charge by the MJF Foundation.
The initiative is testimony to Dilmah commitment to the progressive development of the plantation community. It is part of Dilmah Founder Merrill J. Fernando's vision of making his family business a matter of human service.