News &
Events
Opening of the MJF Centre for Dignified Empowerment and Sustainable Development - East.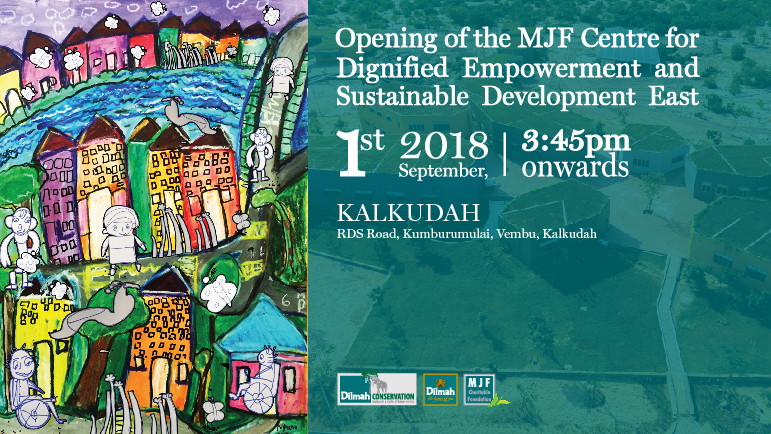 2018-09-01
15:15:00 - 20:00:00
RDS Road, Kumburumulai, Vembu, Kalkudah
MJF Charitable Foundation will make inroads to strengthen the living status of the community around the area of Kalkudah, Batticaloa with the introduction of the MJF Centre for Dignified Empowerment and Sustainable Development – East, making its settlor Merrill J. Fernando's vision 'Business is a Matter of Human Service' a reality.


Established on a 23-acre site in the heart of one of Sri Lanka's most poverty-stricken areas; providing opportunities for women, men, youth, boys and girls as well as people with disabilities. As the regional focus of Dilmah Conservation activities, it aims to secure livelihood options and build climate resilience amongst the communities through the introduction of innovative and sustainable concepts in agriculture, animal husbandry and fishing practices and livelihood support as well as ecosystem restoration. Other programmes include entrepreneurial skills development, vocational training, therapy, supplementary tools for education and life skills development for vulnerable communities. The unique design of the site reflects the Dilmah commitment to sustainability and uses climate smart, low carbon and environmentally friendly technology throughout.

**Invitees Only
Upcoming Events
Training Course on Dysphagia for infants and children with Cerebral Palsy.
For the first time in Sri Lanka, a Training Course on Dysphagia will be held from the 24th-28th October 2018 at National Centre for Children with Cerebral Palsy and Other Developmental Disorders.
Country Roads - A True Celebration of Music and Life.
Celebrating the 30th anniversary of South Asia's and Sri Lanka's longest-running children's charity concert - 'Country Roads' will come alive on the 19th of October, 10 am at the MJF Centre in Moratuwa to entertain the kids and youth from Rainbow Centre, MJF Youth and Cricket Live Foundation.